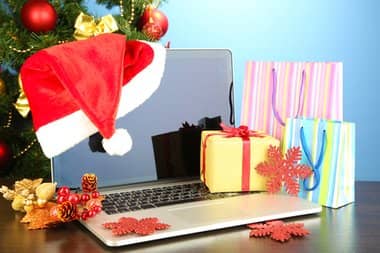 To some it may seem early to even contemplate holiday shopping, but for others, the shopping has already begun. No matter your position, it has been predicted that 2014 may be one jolly sleigh ride for small to medium-sized business in the e-commerce industry. In fact, Volusion, one of the nation's most popular e-commerce website solutions has predicted a 9% online growth in sales this year. All retailers will be competing for shoppers' dollars this year through various strategies, particularly traditional retailers and their online-only competitors.
One of the biggest influences this season is the increase of orders from mobile commerce. Retailers both big and small are now offering online stores giving consumers the ability to shop from their mobile devices. With the growth of online sales, retailers such as Target and Wal-Mart have apps you can download and conveniently filter through to find exactly what you're looking for. Amazon is also a key enabler of mobile commerce and will assist in boosting Holiday e-commerce sales. Amazon's storefront is one of the biggest online outlets for retailers of all sizes. Their mobile-ready e-commerce platform gives Amazon retailers the opportunity to expand their sales from mobile e-commerce. Though mobile sales only account for about 15% of e-commerce sales, the rapid expansion definitely plays a key role in the 9% sales increase.
Comparison shopping is a second main contributor to the expected e-commerce sales increase. This holiday season will demonstrate a digital shift in the retail world as more shoppers embrace the omnichannel experience. Consumers have more ability than to just look for a product via the company's website. Today's shoppers can research products and make purchases using a combination of technology, online platforms, and physical stores.
Similar to what the market experienced last year, there is an even smaller window between Thanksgiving and Christmas this year. This year's selling season is only 26 days compared to the standard 32. Therefore, these small to medium-sized businesses have already began their marketing efforts and loyalty programs to hold their place amongst the competition. The shortened time frame forces people to begin shopping sooner, which leads to an increase in their budget. This is a huge deal because for many major retailers, the fourth quarter accounts for anywhere between 30% to 50% of a year's revenue.
Retailers are implementing very aggressive marketing campaigns, which will be very appealing to consumers. Though consumers will be spending more money, they will be doing so while achieving the best deals, and in many cases will get free shipping. These retailers will be highlighting key items at attractive prices, how could you not want to buy? As the saying goes, the more you buy the more you save, right?
How are you going to get your products to your customers this holiday season? Contact TAGG Logistics and E-Commerce Fulfillment to see what we can do to relieve your holiday fulfillment headaches.