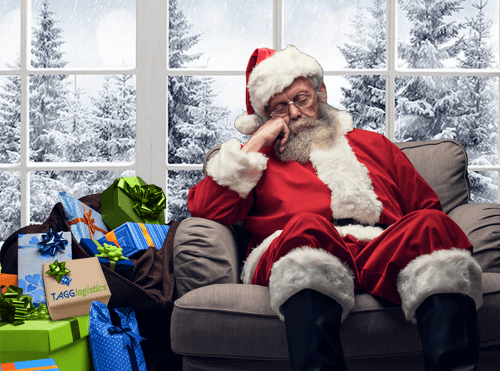 2022 Peak Season for Ecommerce Order Fulfillment: Fulfillment Spikes and Surges
Black Friday, CyberMonday, and the Day after Christmas are critical days for eCommerce Fulfillment Manufacturers and Shippers.  TAGG's team of fulfillment experts, studied and analyzed the trends from 2022 Peak Season's e-commerce order fulfillment.  TAGG's Peak Prep program provides a proven model for managing the dynamic nature of Peak Season, and here's our eCommerce Fulfillment insights.
Retail Sales grew nearly 7% for the 2022 Holiday Season
Retail sales grew nearly 7% during the 2022 Holiday Season, compared to 2021, according to RetailDive.com. RetailDive also reports that inflation was the largest contributor to the rise in sales, with minimal increases in overall consumption volumes. For example, after inflation was taken into consideration, Thanksgiving retail sales volumes only rose 0.2%, and Black Friday and Cyber Week volumes dipped by 1.1%, while Christmas and other holiday season volumes declined by 1.6%.
Interested in more results from 2022's Black Friday and CyberMonday? Get the latest retail sales results here in our cyber week article here.
TAGG experienced 2022 fulfillment volume increases across customer base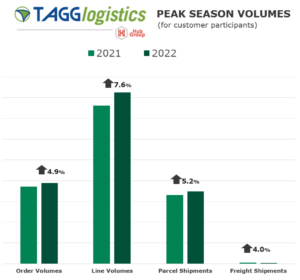 As part of TAGG Peak Prep, we closely monitor the order and shipping volumes across our customer base during the holiday season, and prepare for the anticipated surges as early as August every year. For our customers enrolled in the Peak Season program, order volumes were up 4.9% from Nov. 1, 2022 through Dec. 31, 2022, compared to the same period a year prior. As well, parcel shipments, a primary indicator for our direct-to-consumer segment, were up 5.2% in the same period. TAGG Peak Prep has made substantial investments in fine-tuning the way a Peak Season operation needs to run. For example, TAGG has made advancements in demand planning for volume surges, real-time visibility and order management made possible through TAGG Voyager, and developed the staff, talent and resources that make Peak Season a success.
"Peak season can be make or break it for so many companies," Tod Yazdi, formerly TAGG's CEO and now CEO of Fulfillment Solutions at Hub Group, who acquired TAGG Logistics in August of 2022. "Clients come to us because they want a 3PL fulfillment partner that is always thinking ahead, always looking for ways to improve. That's exactly what TAGG does best."
There's no time of year when seamless ecommerce order fulfillment is more vital. TAGG's Peak Prep initiative is one more way we can help you take Your Business EverywhereSM. TAGG is here to be your 3PL fulfillment partner.
Contact TAGG Today!