Personalize Your eCommerce Order Fulfillment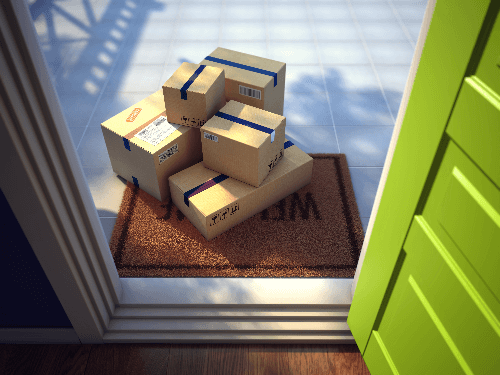 Give consumers the brand experience they want through your 3PL fulfillment model
Consumers are back in stores, ready to buy and want an experience that matches their brand expectations – at the speed of now. The big question: Is your fulfillment center operation ready to deliver? Wherever your customers prefer to shop, in stores or online, how can you be sure it's a seamless and personal ecommerce order fulfillment experience?
In a moment, we'll reveal three ways you can help ensure that personalized experience as consumer spending continues to rise. First, let's take a look at how healthy retail sales are forecast to be in the coming year.
"American consumers are hanging tough."
According to the National Retail Foundation (NRF), retail sales will increase from six to eight percent in 2022. "Consumers are ready to spend and have the resources to do so," said Matthew Shay, NRF president and CEO. "We should see durable growth this year given consumer confidence to continue this expansion, notwithstanding risks related to inflation, COVID-19 and geopolitical threats."
What will the impact be on 3PL fulfillment? NRF forecasts 2022 total retail sales to reach nearly five trillion dollars. Online and non-store sales are anticipated to grow from 11 to 13 percent year-over-year, to just over one trillion dollars. That's slightly less than the astronomical rate of 14 percent in 2021, the greatest rate of growth in more than two decades. Despite the slight drop in the 2022 growth forecast, retail performance is still projected to far surpass the 10-year, 3.7 percent rate estimated before the pandemic began.
Also, rising inflation will continue to test the resiliency of the American consumer. "Most households have never experienced anything like this level of inflation, and it is expected to remain elevated well into 2023," said Jack Kleinhenz, NRF chief economist.[1]
The NRF notes that—while there is uncertainty in the economy, "consumer fundamentals remain in place. Household finances are healthy and strong job and wage growth should support solid growth for consumer spending in 2022." That's good news for manufacturers, retailers and fulfillment partners.
"American consumers are hanging tough, undergirded by strong employment growth and built-up savings," said Sal Guatieri, a senior economist for BMO Capital Markets." How much have Americans saved? Economists calculate roughly $2.3 trillion.[2]
Brick and mortar is back
Despite supply chain disruptions, COVID-19 lockdowns and inflationary prices, sales at brick-and-mortar stores increased in 2021. It's clear many consumers still want to visit their favorite stores in person, not just online—so they can have what's impossible to achieve on a website: a personal brand experience.
Brick-and-mortar retailers have responded in creative ways, broadening the omnichannel experience and giving consumers more ways to shop in person—such as BOPIS (buy online, pickup in store), curbside pickup and self-checkout.
The lines are blurring between online and in-person shopping experiences. Indeed, "phygital" retail strategies—such as QR codes and mobile coupons—leverage technology to make the transformation seamless.[3]
As the retail world continues to evolve, it's more important than ever to maintain the personal brand experience your customers want.
3 ways to keep your brand experience personal
Deliver at the speed of now: Consumers expect next-day or two-day delivery. So your fulfillment centers need to be strategically located across the country. Make sure your fulfillment partner is located everywhere your customers shop.
Focus on the unboxing experience: Bring your brand to your customer's front door. Branded packaging, promotional offers, thank-you notes, new product information and more can help strengthen the bond with your customers and remind them they're making a great choice when they buy from you. This extra attention has been especially important during the rise of subscription box fulfillment during the pandemic. Not all fulfillment centers are equipped to offer this level of personalization for every order, every day.
Deliver live customer service: When your customers call to ask about an order, make sure there's a live human to answer the phone. There's no better way to personalize your customer's ecommerce order fulfillment experience.
These are three of the top advantages you should expect from your fulfillment partner. And they're the foundation of how we deliver Your Business EverywhereSM at TAGG Logistics. Contact us today to learn more.
Contact TAGG Logistics Today!
[1]National Retail Federation. "NRF Forecasts Annual Retail Sales to Grow Between 6 Percent and 8 Percent." March 15, 2022.
[2]Reuters.com. "U.S. consumer spending cools as goods outlays decline; labor market tightening." March 31, 2022. [3]Fastcompany.com. "Four predictions for the future of brick and mortar in 2022." March 7, 2022.