High inflation, continued supply chain uncertainty and a waning pandemic are all influencing how consumers will shop this holiday season holiday season—and how savvy CPG companies and retailers are sharpening their Ecommerce order fulfillment and omnichannel fulfillment strategies in advance of Black Friday.
This holiday season (November 1 – December 31), ecommerce sales are forecast to grow at a slower pace than last year. In 2021, online sales surged 8.6% year over year (YoY), due in part to concerns over shopping in-person during the height of the pandemic. In 2022, ecommerce sales during Peak Season ecommerce sales during Peak Season are projected to increase a more modest 2.5% YoY, to $209.7 billion.
Black Friday online sales are forecast at $9 billion, rising just one percent over 2021 results. In contrast, Cyber Monday sales could grow 5.1% YoY, to $11.2 billion, and Cyber Week sales (Thanksgiving to Cyber Monday) may rise to nearly $35 billion, a 2.8% YoY increase.
What's causing the anticipated decline in overall ecommerce sales growth this holiday season?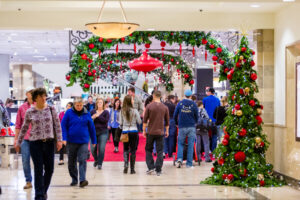 One major reason is that consumers are eager to return to stores, as the pandemic continues to subside. But another is that retailers introduced record discounts early to reduce inventory levels and address consumer concerns about rising inflation. As a result, consumers have been shopping sooner for the holidays, which is expected to lower spending on Black Friday and Cyber Monday.[1]
The trend to shop early had actually begun before the first cases of COVID-19 were reported, but the pandemic kicked the trend into overdrive. While Black Friday may still be considered the "official" start of the holiday gift buying season, consumers are now shopping as early as October (or even before), seeking bargains that fit budgets driven down by inflation.
Indeed, inflation has clearly replaced COVID-19 as the primary driver influencing how consumers will shop this holiday season. Among shoppers, concerns about COVID have decreased, from 52% in 2021 to just 16% this year. Meanwhile, financial concerns fueled by inflation have surged by 153%.[2]
While rising inflation is impacting holiday sales, nearly 2/3 of shoppers say spending and celebrating this season is important—even if that means cutting other areas of their budget.[3] As a result, nearly 75% of consumers plan to spend the same or more this holiday season. An average shopper is forecast to budget nearly $600 for Black Friday deals and more than $700 for holiday gifts overall.[4]
How are consumers shopping online to find bargains? Ninety-four percent are searching for expert advice to help lower gift buying costs. Nearly 60% are looking online for the best deals, and 40% are using product reviews to identify the best products. Almost 90% of Gen Z consumers are turning to social media for holiday shopping insights.[5]
The return of the in-store shopper
Consumers are eager to put pandemic fears behind them and embrace the holiday shopping tradition once again. In-store sales are expected to increase by 7.9% YoY,[6] and 45% of shoppers polled by the National Retail Foundation plan to visit brick-and-mortar stores this Black Friday.[7]
To help address the trend, omnichannel fulfillment strategies should include a BOPIS (Buy Online, Pickup in Store) component. In 2021, curbside pickup was used for one in four ecommerce orders, as consumers sought to avoid crowds during the pandemic. Adobe Analytics expects the preference for curbside pickup to accelerate, reaching 35% of online orders during the 2022 holiday season.[8]
Overcoming challenges to deliver a great brand experience
Last year, supply chain disruptions caused by the pandemic threatened on-time delivery of holiday gifts. Several issues could continue to impact product availability and delivery in 2022, including:
the war in Ukraine
manufacturing shutdowns in China due to zero-tolerance COVID-19 policies
Mississippi River levels at record lows, stranding barges
potential rail worker strike
truck parts shortages
labor shortages across the supply chain[9]
Despite these challenges, many consumers are expecting delivery times this holiday season to return to pre-pandemic levels. One-third of ecommerce order fulfillment shoppers believe two- to three-day delivery is reasonable. In 2020, only 14 percent of consumers expected gifts to arrive within two days.[10]
To address the labor shortage and help meet customer expectations, Amazon plans to hire an additional 150,000 workers—raising hourly wages to attract more applicants.[11] Savvy CPG companies and retailers have been preparing early for the holiday shipping season as well, learning from last year's supply chain and inventory challenges. In addition to starting their holiday sales sooner, these CPG companies and retailers are working with their logistics providers to ensure available inventory is prepositioned where needed most, to meet varying consumer demand nationwide.
"To further improve the end delivery experience for consumers, consider logistics providers that have implemented automation and robotics to improve throughput and mitigate any potential labor shortages," said Gregg Zegras, President, Global Ecommerce with Pitney Bowes. "Partner with (logistics) companies that support your brand. Have clear communication with end consumers about delivery—they would rather have bad news vs. surprises."[12]
Most importantly, be ready to accommodate how and where consumers prefer to shop. A robust omnichannel fulfillment strategy should include both online and retail solutions—with a clear and comprehensive view of inventory across all sales channels, plus the logistics resources and ecommerce order fulfillment network to meet consumer demand everywhere.
To help CPG companies and retailers better prepare for the peak holiday season, we offer TAGG Peak Prep, a volume forecasting and resource allocation strategy that helps:
Improve inventory visibility and keep orders flowing in a timely manner
Adjust staffing levels to ensure trucks and drivers are available to meet demand
Empower clients to keep online shoppers better informed by updating processing time and days-in-transit shipping information at checkout
Keep retail clients up to date on parcel surcharge rates, so they can adjust their budget expectations
Succeeding this holiday season
The shifting demands of consumers today require what TAGG Logistics has delivered all along: tailored, ecommerce order fulfillment and omnichannel fulfillment strategies that take Your Business Everywhere™. Contact us today to learn more about TAGG Peak Prep—and how we can help you provide a great brand experience this holiday season.
Contact TAGG Logistics Today!
[1]Businesswire.com. "Adobe Forecasts $209.7 Billion Holiday Season Online (U.S.); Cyber Monday to Top $11 Billion." October 10, 2022
[2]RISnews.com. "Holiday Retail Forecasts and Predictions for 2022." September 19, 2022
[3]NRF.com. "6 things to know about the 2022 holiday shopping season." September 30, 2022
[4]RISnews.com. "Holiday Retail Forecasts and Predictions for 2022." September 19, 2022
[5]RISnews.com. "Holiday Retail Forecasts and Predictions for 2022." September 19, 2022
[6]Retailtouchpoints.com. "Everything You Need to Know About Holiday 2022." October 6, 2022
[7] NRF.com. "6 things to know about the 2022 holiday shopping season." September 30, 2022
[8]Businesswire.com. "Adobe Forecasts $209.7 Billion Holiday Season Online (U.S.); Cyber Monday to Top $11 Billion." October 10, 2022
[9]Usatoday.com. "Black October is here: Transport delays, labor shortages slow supply chain as holiday shopping begins." October 10, 2022
[10]RISnews.com. "Holiday Retail Forecasts and Predictions for 2022." September 19, 2022
[11]WSJ.com. "Amazon to Hire 150,000 Workers Before Holiday Season." October 6, 2022
[12]Supplychaindrive.com. "Expert roundtable: How shippers should prepare for the 2022 peak season." August 22, 2022