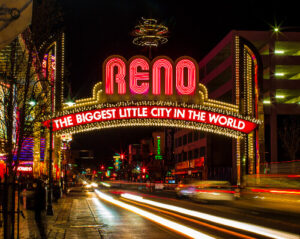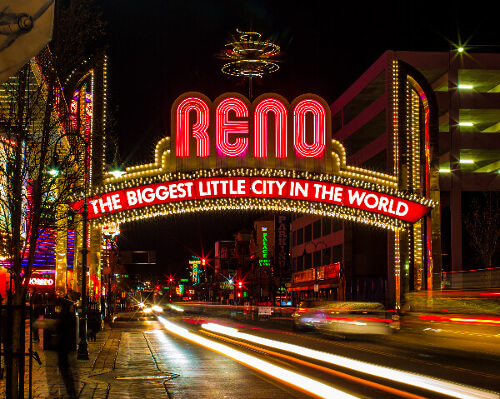 The Hub Group and TAGG Logistics announced the grand opening of our new, state-of-the-art ecommerce order fulfillment center in Reno, NV earlier this year. Today, we're talking more about why Reno makes so much sense as a location for e-commerce order fulfillment! Whether you're looking for an end-to-end integrated supply chain solution with Reno as your next hub, or you're in search of a standalone fulfillment center location, Reno is a great place to get started.
In 2020, Reno was ranked the #1 best small city in the US by BestCities.org, and it's also known for being a business-friendly city, in a business-friendly state. Reno has become a major distribution hub for retail clients. Why? Because it is an ideal shipping point for outbound freight to stores and also an ideal receiving point for inbound container freights from Asia. Our Reno, Nevada warehouses provide one or two-day coverage for small-pack and pallet shipments to California and all Western states. Combine that with TAGG Logistics' same-day fulfillment to ensure that if an order is placed today, it will arrive either tomorrow or the day after. Making our Reno e-commerce order fulfillment center an integral component of TAGG's supply chain logistics.
Our 'new construction' ecommerce order fulfillment center in Reno, Nevada is now open! It was designed from the ground up as an omnichannel distribution center for customers shipping product to the West Coast, California, Pacific Northwest ports, and most other Western states. There are a lot of reasons Reno, NV makes sense as your West Coast hub for e-commerce order fulfillment. Check out the list below:
Why Choose TAGG's Ecommerce Order Fulfillment Center in Reno, NV
Reason #1: Location, location, location! This ecommerce order fulfillment center has an ideal location off I-395 and less than one mile from the Reno-Stead airport. The fulfillment center address is 10755 Lear Boulevard, Reno, Nevada 89506. The Nevada Governor's Office of Economic Development states that, "Reno Tahoe International Airport consistently earns recognition as one of the most efficient and friendly airports, serving more than 3.8 million passengers and receiving more than 114 million pounds of cargo annually."
Reason #2: Reach consumers faster. Reno, NV fulfillment operations are perfectly suited to reach West Coast consumers within 1-2 day shipping timeframes. Close to major arterial highways and railroads, Reno offers a combination of rich transportation infrastructure and a convenient geographic location with easy proximity to west coast markets and businesses.
Reason #3: A Perfect Climate. Reno boasts a dry, mild, low-humidity climate ideal for the storage of a wide range of product types.
Reason #4: Features galore! With 532,000 square feet of storage space and 99 dock doors, this marquee fulfillment center location presents an immediate opportunity to store and distribute products from an FDA and NSF-certified, high-performance fulfillment center.
Reason #5: TAGG's Proven Track Record for Reno, NV order fulfillment. With a proven 9-year track record a strong footprint in Remo, TAGG has a tenured staff, management team, and carrier relationships that enable TAGG to serve customers across an even wider spectrum of products from this fulfillment hub.
Reason #6: Nevada is a business-friendly state. Reno, NV is an ideal fulfillment hub in a business-friendly state with affordable real estate and several tax benefits. That's why companies such as General Motors, Sherwin Williams, Barnes and Noble, and Wal-Mart are all calling it home for various aspects of distribution operations, according to the Northern Nevada Business Weekly.
Nevada ranks as the 7th best state in the Tax Foundation's 2020 State Business Tax Climate Index, an independent ranking of states in five areas of taxation: corporate taxes; individual income taxes, sales taxes, unemployment insurance taxes, and taxes on property, including residential and commercial property. It far outstrips neighboring states which ranked as follows: California 48th, Arizona 20th, and Idaho 21st.
As a leader in ecommerce order fulfillment and omnichannel fulfillment, TAGG delivers a wide range of services well beyond basic fulfillment from its Reno, NV fulfillment center, including these value-added, specialized services:
Freight Consolidation and Shipping for Retail
TAGG Logistics and its parent company, Hub Group, are the industry's leading experts in retail freight consolidation and shipping. From the newest Reno, NV fulfillment center, our clients can now achieve one-day transit times to more than 60 million consumers. As well, products fulfilled from the Reno, NV fulfillment center can ship out with two-day truck service to 11 Western states, and come inbound from suppliers arriving at West Coast ports in less than 1 day.
Interested in fulfilling your products from the Reno, NV Fulfillment Center? Inquire about space in Reno today.
Inquire About Space in Reno, Nevada