Today's blog post explores a case study in freight consolidation and shipping to top retailers, as executed by a partnership between Hub Group, TAGG Logistics's parent company, and Cholula. Hub Group provides an unmatched distribution solution to Cholula. The relationship between the two companies started when a consumer-focused private equity firm reached out to Hub Group on Cholula's behalf, seeking to evaluate Cholula's end-to-end supply chain network and its inherent complexities. The ultimate goal of the engagement was to improve operational efficiencies.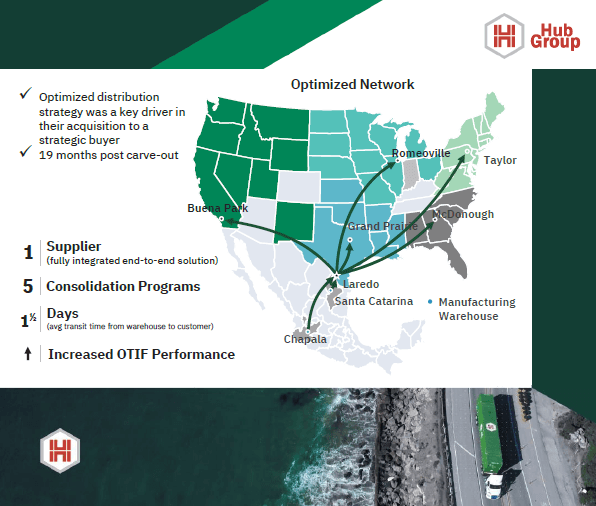 Freight consolidation to retailers, also called retail consolidation, is a strategy that many major consumer brands, like Cholula, are adopting in order to identify operational efficiencies and cost savings opportunities. But first, let's take a closer look at Cholula's brand and supply chain situation.
Cholula has a well established brand with its end consumers. Yet, with its continued growth and complex cross border and retail customer guidelines, the company needed a more sophisticated supply chain solution. Navigating each product's point of origin with multiple incumbents complicated communications with suppliers and customers, plus hampered Cholula's ability to govern inventory levels and on-time performance. As a result, the company experienced higher freight expenses, and its lean staff spent more time putting out fires than being strategic.
With an extensive network of established carriers, warehouse providers, and deep retailer relationships, enrolling Cholula in multiple retail consolidation and food service distribution programs was the way to go. Hub Group's supply chain and logistics specialists determined how to achieve greater overall efficiencies and cut costs by leveraging Hub Group's CaseStack Retail Supplier Solutions. Hub Group's end-to-end supply chain solution replaced eight incumbents with a fully streamlined logistics outsourcing engagement for the customer.
The Freight Consolidation and Shipping solution includes:
Customs and cross border support for inbound shipments from Mexico
Food grade warehousing in five regions
Outbound services in five retail consolidation programs
Both less than truckload and full truckload for all non-consolidation consignees
Using Hub Group's customer portal technology, Cholula now receives 24/7 visibility into inventory levels, order tracking, and all documentation needed to avoid costly retail fines.
Hub Group's extensive network and suite of solutions has driven overall cost savings and a 96% On Time In Full (OTIF) score across all consignees since the program started. By working with Hub Group, Cholula has not only cut costs and improved retail performance, but they are also freed from the day to day tasks of managing their supply chain and can now better focus on other aspects of growing their business
More information about Freight Consolidation and Shipping
A freight consolidation program combines freight from several suppliers into a single shipment. Since retailers often receive freight from vendors in multiple LTL shipments, this makes good sense, because it can be expensive to deliver all of these LTL shipments separately.
With competition amongst retailers more heated than ever before and retailer shipping requirements more stringent than ever, many retailers and CPG brands alike are looking for new ways to keep costs down, while also becoming more efficient, more productive, and providing better service. Combining and consolidating inbound shipments from suppliers creates benefits not only for retailers, but for CPG companies and other suppliers as well. That's why freight consolidation and shipping programs are becoming part of many major retailers' compliance requirements for all their suppliers.
TAGG Logistics and our parent company, Hub Group, have deep experience and the know-how to manage even the most complex freight consolidation program. From establishing a standard predetermined delivery schedule for participating suppliers, to ensuring compliance requirements are met with flying colors, we take the complexities of retail partner compliance off your hands.
The shifting demands CPG manufacturers and retailers face today require what TAGG Logistics has delivered all along: a tailored omnichannel fulfillment strategy and retail consolidation in markets including Dallas, Atlanta, Chicago, Los Angeles and Scranton that take Your Business Everywhere™. Contact us today to learn more.
Contact TAGG Logistics