TAGG Logistics' History and Leadership Team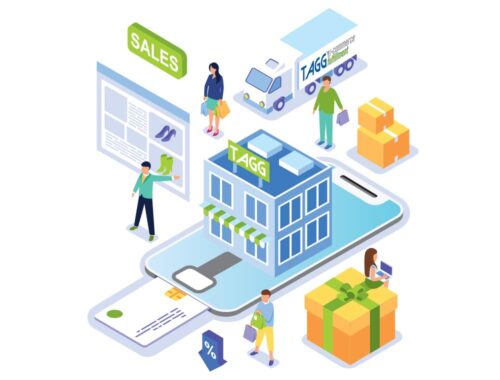 On the road to Your Business Everywhere.℠
When TAGG Logistics opened its doors in 2006, omnichannel fulfillment in retail was an emerging trend. Fast forward to today, and it's the new normal. Google is widely quoted as saying that, "nearly nine in 10 consumers tap into multiple sales channels when making a purchase." A shopper might browse on a mobile phone during the workday and make the purchase from a desktop at night. Or, head straight to a brick-and-mortar store on the way home from work.
Manufacturers must be wherever (and whenever) consumers choose to engage them. Furthermore, consumer demands for speed grow ever more challenging, as the explosion of online sales continues across an ever-widening array of digital channels (like social media) and digital marketplaces (like Amazon.com). Once upon a time, "Open 24 hours" was the standard. Now, it's delivering to consumer doorsteps in just a business day or two.
TAGG recognized the emergence of the consumer-driven supply chain over a dozen years ago. More importantly, we realized that, as consumer demands continued to grow, the market would require a consumer-driven fulfillment center network that could not only keep pace with the rapid growth in online sales, but anticipate and help lead the transformation to omnichannel. TAGG pledged to be the premier consumer-driven 3PL fulfillment partner that the market needs. Over the years, that pledge has guided every decision we make on behalf of manufacturers and consumers everywhere.
Case in point: in 2009 TAGG expanded from one fulfillment center in St. Louis, Missouri to a second in Reno, Nevada. Why? To give our West coast customers three-day delivery, which was the gold standard at the time. In 2015, that standard was cut to two days. TAGG was ready, opening yet another distribution center—this one in Allentown, Pennsylvania—to anticipate and meet the growing need for speed.
In 2018, TAGG forged a new relationship with Dot Foods, the nation's largest food industry redistributor. The relationship with Dot gives TAGG additional resources to scale up and grow, keeping pace with consumer demand for delivery at the speed of now. Dot benefits by having access to TAGG's deep resources and expertise with direct-to-consumer fulfillment and omnichannel fulfillment.
In late 2019, we announced the acquisition of LeSaint Logistics, a national 3PL with a warehousing footprint and business-to-business (B2B) fulfillment capabilities that complements and expands TAGG's capabilities. Today, TAGG delivers parcel shipments in 1-2 business days across the country via a network of 25 fulfillment centers, including 5 fulfillment centers strategically located for local and regional consumer reach.
Everyone wins—especially consumers who want access to products where they want, when they want. TAGG will continue to anticipate consumer demands. And then exceed them. Whatever fulfillment challenges lie ahead, TAGG will continue to be ready. The latest chapter in our story is proof positive that—when you have a clear vision of what lies ahead—you can take the next step with confidence.
To learn more, call 314-991-1900 or contact us here. So together, we can deliver Your Business Everywhere™.
Mission, Vision and Core Values
TAGG Logistics Vision, Mission and Core Values embody our identity at all levels of our organization:
VISION
To be the industries leading fulfillment partner focused on innovation and advancement
MISSION
To build agile fulfillment solutions and execute efficiently, maximizing the ability of our clients to take Your Business EverywhereSM
FAMILY
We support everyone as though they are part of a family. We build genuine relationships where all are valued and respected—giving everyone the benefit of the doubt.
DEPENDABILITY
We're passionately focused on exceeding expectations and honoring our commitments.
INCLUSION
We believe everyone matters. Everyone is valued for their individual contributions to our success.
CURIOSITY
We encourage an ongoing, self-motivated pursuit of knowledge.
HUMILITY
We're modest, empathetic, and open to input from others.
HOW WE LIVE OUT OUR VALUES TO CREATE OUR CULTURE
Welcome everyone with open hearts and minds.
Gain trust and respect by following through on promises.
Make everyone a part of the conversation.
Treat each challenge as an opportunity to learn.
Think big, act small.
TAGG is Trusted by the Companies you love