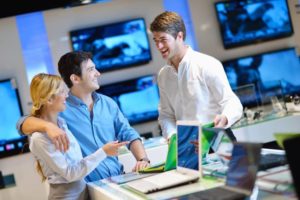 There is no doubt that technology has completely affected the way we communicate, read, work, and especially how we shop. E-commerce growth has been on a steady incline thanks to interactive websites and mobile apps, convenience, and pricing comparisons. However, a new trend is emerging amongst brick-and-mortar retailers, some who also have e-commerce sites, called experiential shopping. Retailers are creating in-store shopping experiences enhanced with interactive interfaces, knowledgeable staff, social media integration, and an all-around customizable experience to personally connect with their consumers. The demise of brick-and-mortar stores has been greatly exaggerated, but they have left out substantial opportunities in branding, service, and customer retention, all to be enhanced through experiential shopping.
Certain retailers have already began transforming their stores, ensuring that their top consumers receive this experience concept and much, much more! As of today, those top consumers, also known as millennials, are no longer passive. They are drawn to the idea of interacting with brands, developing relationships with brands and are more interested in relevance and authenticity than price. This strategy has already been proven by one of the most popular retailer's in today's society; Apple. They have converted their stores to exemplify a complete experiential shopping experience. When you enter an Apple store you are surrounded by young, well-educated employees, with high tech products that deliver simplicity and convenience with product use. You can test out old, new, and future products, sign up for seminars on how to use them or simply ask one of the numerous employees on hand to service you. They immerse their shoppers with an experience incomparable to others.
The generational shift in purchasing power to millennials has affected other retailers and how they deliver experiential shopping to their consumers. They are the target group for these retailers and one commonality amongst millennials is their desire to support a cause. Statistics show that at least 70% of millennials have purchased a product that supports a cause, furthermore; they are willing to pay extra for a product if it supports a cause aligned with their personal beliefs. Retailers that are able to do this already have a distinct advantage, but those that are able to support a cause while providing an experiential shopping experience are surely winning in this category. Take TOMS shoes as one of the best examples. TOMS name is derived from the idea: "sell a pair today, give away a pair tomorrow." Their business model is known as a "one for one" model—buy one pair of shoes and one pair goes to someone in need in a developing country. The shoes are not only high-quality, extremely comfortable and affordable, but they also allow consumers to support socially conscious companies. The TOMS flagship store in Venice, CA provides an experience beyond your typical shoe store; they have a bakery that offers fresh coffee and goods, abundant space to lounge around as well as free Wi-Fi. This has allowed them to create a personal relationship with their shoppers as not just a place to shop, but a place to hang out with friends. This forward-thinking regarding experiential shopping to form memorable and emotional connections has created immense customer loyalty and influenced purchase decisions.
E-commerce has been on the rise because it has proven to be valuable due to its convenience, price, ease of use, and lack of complications. Consumers like that it is easy and efficient, however e-commerce can only reach two out of five of our senses that help create experience—sight and sound. Brick-and mortar retailers can leverage all the senses to create an experiential environment given their physical space to design a customizable experience and employ the store with helpful staff that represent the brand. Combine these traits with the ability to help a good cause and your experiential shopping approach is complete. The time and effort put in place are worth the payout because the experience that pleases the shopper emotionally and contextually will generate more long-term sales and customer allegiance.
For more information, please fill out our contact form or give us a call at 1-866-991-TAGG.