Tao Clean and TAGG Logistics
Direct-to-Consumer Drop Shipping and Ecommerce Order Fulfillment becomes cornerstones for TAO Clean's rapid growth
TAO Clean centers on a lifestyle concept; one that values cleanliness in mind, body, and spirit. The company, which came to market in 2015, is focused on joining form and function—designing elegant personal care products like sonic toothbrushes and facial brushes that are practical, innovative, and beautifully designed. For example, toothbrushes are built with a self-sanitizing function, delighting consumers with a clean toothbrush ready for use each and every day.
As a company, TAO Clean strives to deliver a fantastic user experience—and holds itself to exceptionally high standards for not only cleanliness, but also precision and performance. That's why they chose TAGG Logistics as their fulfillment partner.
TAO Clean had a history of outsourcing logistics, but TAGG brought a new level of capability.
TAO Clean's CEO, Ryan Mongan says, "Until we found TAGG Logistics, no one could meet our highly variable volume requirements, drop shipping demands, or special-order complexities. What's more, they made a smooth operational transition during the uncertain and highly dynamic onset of a global pandemic. If they can partner with us through a storm like that, the future looks very bright."
Learn More: Get the Full Case Study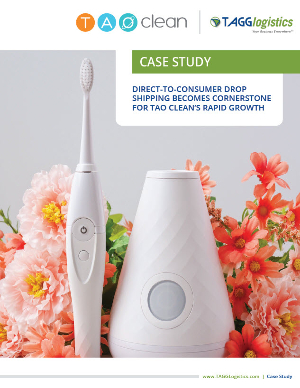 Learn more about how TAO Clean and TAGG Logistics are achieving 0.7 days average processing-to-ship time. Get the case study now:
TAGG is Trusted by the Companies you love