Tea Drops and TAGG Logistics
A modern way to power growth with ecommerce order fulfillment for flash sales and beyond
Tea Drops Founder and CEO, Sashee Chandran loved the experience and ritual of drinking tea, but hated the messy, wasteful tea bag. In 2015, Tea Drops was born in Chandran's kitchen when she came up with a new way to drink tea by pressing ground organic whole leaf teas into fun shapes. These 'bagless' teas are simply dropped into hot water where they melt into a delicious fiber-rich, probiotic-filled cup of tea. Initially, Chandran made the teas in her kitchen, while packing and shipping took place in her garage.
Soon growth demanded that the company have a 3PL Fulfillment Partner. In 2017, Chief Operations Officer, Freya Estreller, came on and quickly realized that their current 3PL couldn't scale to keep up with their rapid growth. Their warehouse management system (WMS) was inadequate – it didn't even have accurate inventory counts. That's when one of their investors recommended that Estreller get in touch with TAGG Logistics.
"With growth doubling year over year, we needed a partner who could scale with us. We were also looking for capabilities around kitting lots of different SKUs," says Estreller.
Tea Drops sells both to wholesale accounts and direct-to-consumer. TAGG has worked with Tea Drops to create a customized solution to help the company meet the demands of triple digit growth, while hitting their cost and budget metrics for fulfillment. Two fulfillment centers in TAGG's nationwide fulfillment center network – one on the east coast and one on the west coast – help ensure that customers get delivery of products within five business days. TAGG's technology stack and responsiveness made all the difference.
Estreller says, "TAGG has taken all the 'stops' out of our supply chain. All kitting and fulfillment take place in a single facility – and we've reduced costs by 10 percent."
Learn More: Get the Full Case Study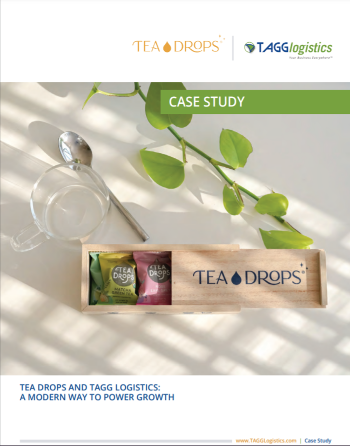 Learn more about the performance results Tea Drops has experienced working with TAGG. Get the full case study now.
TAGG is Trusted by the Companies you love