Omnichannel Fulfillment
Services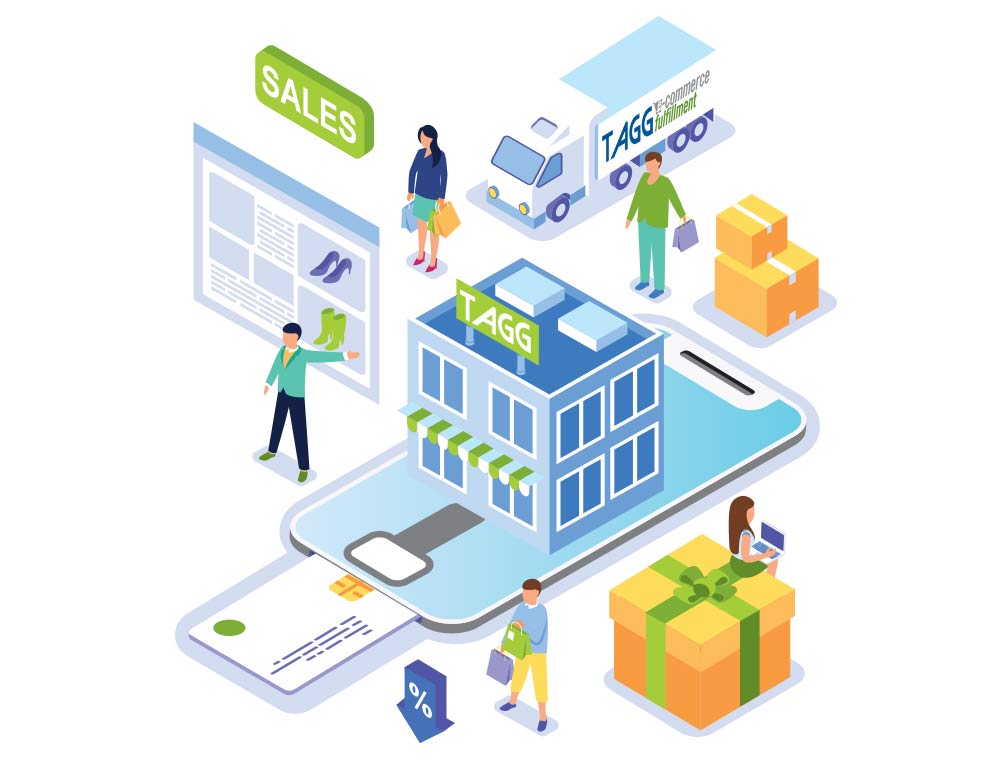 TAGG Takes Your Business Everywhere

The game is on to be first, better and the one consumers want. This is the age of the consumer-driven supply chain: wherever customers engage with your brand, they want the same great experience. And they want it NOW.
To meet the demands of the omnichannel consumer, your fulfillment partner must have the facilities, infrastructure and information systems to make it happen. Whether customers buy on your website, at Amazon or Walmart, in your store—or countless sales channels in between—TAGG is here to increase the speed, accuracy and efficiency of every step in the sales process: from ordering to processing to delivery.
The more complex the omnichannel world becomes, the more you need to simplify fulfillment. Not a different inventory for each sales channel, but one. Not multiple technology platforms, just the one you need. Not a rigid fulfillment process that plays by its own rules, but a flexible one that meets your customers where they are—wherever they are. So you can stay focused on product innovation—and count on us to help you deliver it all day, every day.
This is Your Business Everywhere. This is TAGG Logistics.
Where do you want to sell today? TAGG is already there.
The linear (and simpler) supply chain of days past is fast being replaced by a growing complexity of sales channels. To be where your customers are with an effective sales platform requires that your fulfillment partner have deep knowledge of a vast array of ordering systems and the ability to customize them. Plus, same-day fulfillment operations also customized to support your consumer brand experience. And finally, the delivery resources and expertise to ensure next-day and two-day delivery to most of the United States.
At the same time, you need a seamless business-to-business supply chain—so customers can reliably find your products at their favorite brick-and mortar retailers, like Walmart.
With TAGG, you can expand throughout the omnichannel world with confidence:
Your brand's website: We'll integrate seamlessly with your shopping cart and create the buying experience your customers expect from you. But this is the omnichannel world, so your own website is just the beginning.
Digital marketplaces: Next, we'll connect you not only to broad digital marketplaces such as Amazon.com, but also storefront digital outlets, such as Walmart.com. Plus, category marketplaces like ebags.com.
Digital channels: They include daily deal sites, flash sales, subscriptions boxes and social media.
Non-digital channels: Outside the online experience, we'll help you deliver the right brand experience for catalog sales, direct response TV, mail, kiosks and more.
Retail storefront: Online sales may be accelerating fast, but brick-and-mortar stores like Walmart are still where the overwhelming majority of purchases happen. Getting your products on the shelf can be complex, as every retailer has its own IT systems (such as EDI), shipping and delivery requirements. We have a long track record of accommodating them all. We'll take care of the details, so you can take care of innovating for your customers.
Ready to take Your Business Everywhere?
Whether you're experienced with omnichannel sales or just starting out, we have the resources, flexibility and passion to help you succeed. That's the TAGG brand experience—and we look forward to sharing it with you.
TAGG is Trusted by the Companies you love