TAGG Fulfillment Centers Apply Machine Learning for Best in Class Service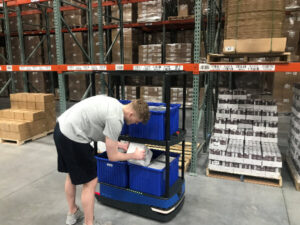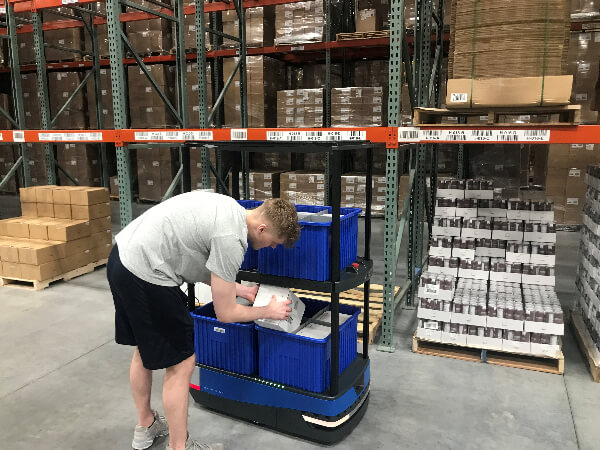 Is your fulfillment partner using the latest technology for your ecommerce order fulfillment? Fierce competition and consumer demand for ever-faster response times makes keeping up with the latest technology more important than ever. With the holiday peak season upon us, it is critical for direct-to-consumer (DTC) shipping to have the right technology in place. TAGG Logistics has invested in the latest DTC order fulfillment technology from 6 River Systems (6RS), autonomous pick carts that use artificial intelligence and machine learning to increase speed, accuracy, and efficiency.
In the spring of 2021, TAGG introduced self-navigating mobile robotic pick carts at our Reno, Nevada order fulfillment center, replacing manual pick carts with robotic ones. The project has been so successful, that we've replicated it at our Dallas, Texas fulfillment center and St. Louis, Missouri fulfillment center —just in time for the peak holiday season.
Here's how autonomous picking carts work:
A robotic cart leaves the induct queue with a designated picking sequence and empty totes. It travels by itself to designated meeting points in the fulfillment center.
Here, the cart meets a TAGG associate and guides them through the pick sequence using the most efficient path, which is determined using AI. In fact, the carts will continue to learn and refine routes over time.
The associate picks products into the totes on their cart, fulfilling one—or many—orders. Totes can have dividers put in them to pick up to 32 orders at a time.
Once the sequence is complete, the robotic cart returns by itself to the off-load location where picked orders are removed and placed on the conveyor to pack stations.
Then, the cart returns to the induction point to be given a new pick sequence and empty totes—or if its battery is running low, it will go straight to the nearest charging station and autonomously charge itself.
Since the robotic cart returns to the offload station by itself, the associate is immediately freed to go to a meeting point, meet another cart, and begin a new pick sequence.
Our clients reap the benefits of TAGG's investment in cutting-edge technology. We've seen benefits across the board, including:
Overcoming the challenges of a tight labor market.
The last two years have seen the labor market shrink further—from what was already a difficult environment. In fact, unemployment rates remain under 5% and nearly 4 million people quit their jobs in April of 2021 alone, according to www.supplychainbrain.com. Robotic carts offer several benefits that help alleviate that pressure. Having them in place accomplishes mission-critical things for TAGG associates:
– it simplifies training
– it requires fewer specialized skills to excel at their jobs
– it alleviates the need to physically push a cart
– it runs 7 days a week across all shifts, benefiting order volumes even on the evenings and weekends
– it enables associates to focus on improving the overall brand experience by covering accuracy and speed for them
"Eliminating traditional small-screen RF technology and replacing it with large screen tablets that have intuitive work instructions is a significant plus with the new 6 River System's technology" says Doug Carr, Chief Operating Officer at TAGG Logistics. "It also helps us speed up training and onboarding of new employees, by making our processes easier to understand up front" continues Carr.
The robotic carts do several things to accelerate the fulfillment process. First, they eliminate picker travel time by allowing the picker to remain in the picking aisles. Next, they automatically optimize the travel path—and use artificial intelligence and machine learning to get smarter and more efficient over time. They also enable associates to pick multiple orders simultaneously—faster and more accurately.
One means by which 6RS's technology enables speedier fulfillment in TAGG's multi-client fulfillment centers is by allowing us to store product in locations based on building velocity rather than by client.  Slotting products by their velocities rather than grouping 'like clients' is another way we maximize pick path densities.
Carr reports that "The 6 Rivers Technology helps us dramatically expand capacity at our existing order fulfillment centers by allowing us to process more orders within the same physical network (building, equipment and people) of a single facility."
The results are measurable.
TAGG clients saw nearly immediate results from the robotic implementation, especially since it's a technological innovation that is particularly well-suited for small parcels and direct-to-consumer applications in industries like CPG.
"For one of our clients in the CPG industry, automated picking carts have improved their direct-to-consumer (DTC) order fulfillment time by 20-50 percent, depending on the shipment. This results in TAGG being able to flex up and handle even more orders for our customers," Carr says.
As TAGG continues to roll out this new technology to more fulfillment centers, they expect to see even more great results.
Are you getting the most from your fulfillment partner?
When evaluating a fulfillment partner, it's important to look at their ability to meet your key performance indicators, including speed and accuracy. Make sure to ask what technologies they have in place to support these critical statistics—it will make a difference in the ability to get your products in the hands of your customers quickly.
TAGG Logistics can help you use the latest technology to take Your Business EverywhereSM, we'd love to be your ecommerce fulfillment partner. Contact us today.
Contact TAGG Logistics