Ecommerce Fulfillment Reno

As your true strategic partner, TAGG Logistics becomes an extension of your business by regarding your needs as highly as our own. Our facilities and employees work tirelessly behind the scenes to ensure that your product is handled with precision and care from the moment it arrives to the moment it leaves our facility to be shipped across the West Coast region.
TAGG Logistics' Reno, Nevada (NV) facilities serve as multi-channel distribution centers for customers shipping product to the West Coast, California, Pacific Northwest ports and most other western states. We house multiple facilities in Nevada that are 100,000+ square feet each and hold every piece of product in an organized, technologically advanced system.
Our value-added services for the West Coast:
Having multiple large fulfillment locations in Reno enables TAGG to remain competitive in today's omnichannel environment, as well as to scale with the growth of our clients and their needs. Furthermore, Reno is a major distribution hub for retail clients because it is an ideal shipping point for outbound freight to stores and also an ideal receiving point for inbound container freights from Asia.
Our Reno, Nevada warehouses provide one or two-day coverage for small-pack and pallet shipments to California and all Western states. Combine that with TAGG Logistics' same-day fulfillment to ensure that if an order is placed today, it will arrive either tomorrow or the day after.
Small-Pack Transit Times for Reno, Nevada (NV)
When combined with our Midwest, West Coast, East Coast, Southeast, and Texas locations, TAGG Logistics reaches most of the US population with 2-day ground shipping. Take a look below for our transit times: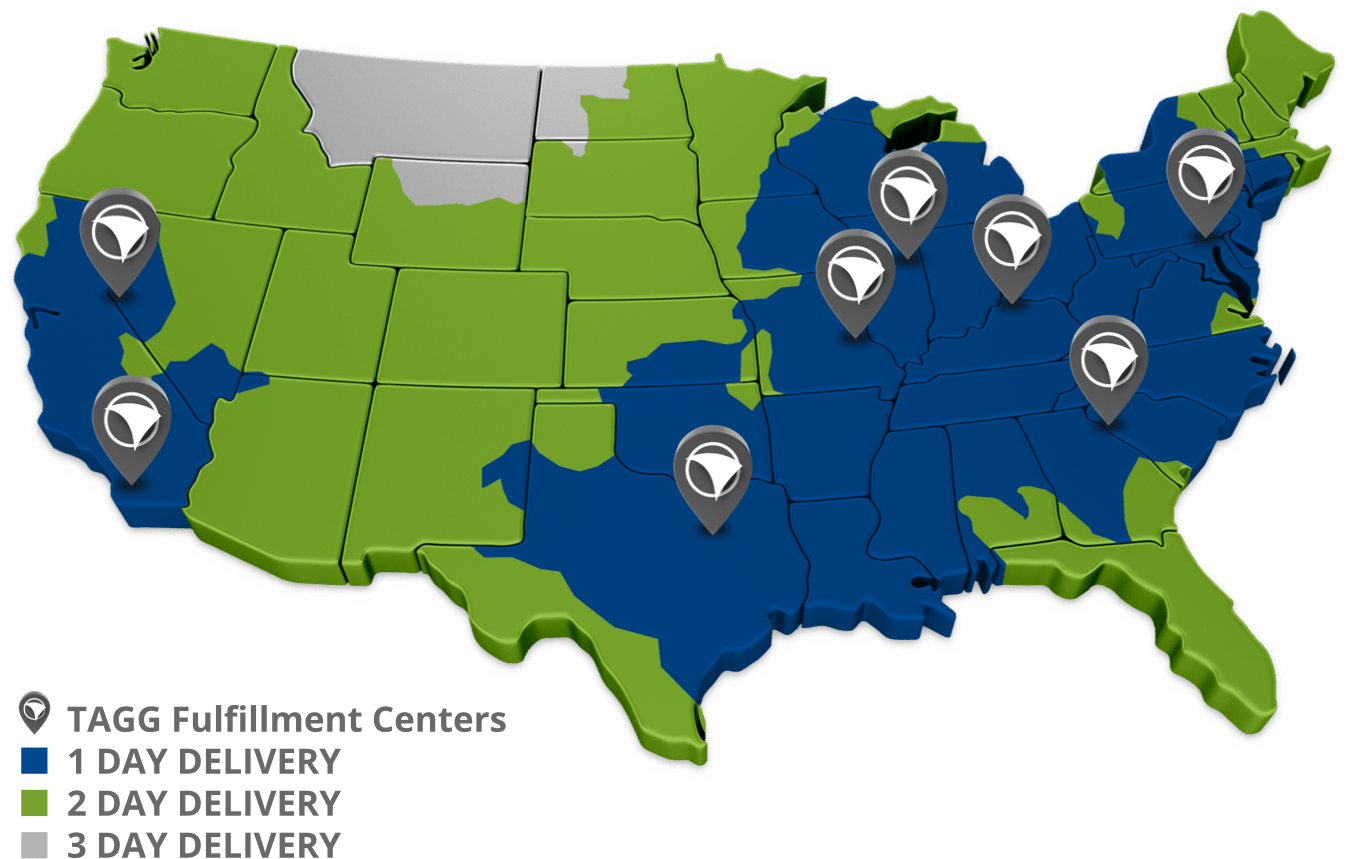 Four Philosophies for Third Party Logistics
The third party logistics (3PL) industry is large and rapidly growing. When organizations are choosing a new fulfilment partner, we see that the trends are moving toward faster and more cost-effective shipping. TAGG Logistics believes in four philosophies for high customer satisfaction at our Nevada location, as well as our East Coast, Midwest, Southeast, and Texas fulfillment centers:
Multichannel Fulfillment
Come to TAGG Logistics for all of your fulfillment needs, all under one roof. As your partner, we can accommodate all of your demands, but more importantly, the demands of your customers. For wherever, whenever, and however they want their product, we are able to meet their expectations for quality service with our full range of fulfillment services, including packaging and distribution.
Continued innovation
Having the latest technology in place ensures that your product is easy to order, processed quickly, delivered on time, and all at the lowest cost possible.
Our advanced IT offers technology-driven facilities and transportation expertise to nurture your customers' brand experience from shopping cart to warehouse to their front door. This approach is called TAGG IQ, which leverages a customized and unique combination of technology and hands-on expertise to deliver your products with accuracy and speed. Learn more about TAGG IQ and its four solutions!
Flexibility
Whether you are utilizing our Nevada location or any of our other East Coast, Midwest, Southeast, and Texas locations, having TAGG Logistics as a partner allows for the flexibility of customized solutions that can handle any challenges that arise and can also lead your business into a bright future.
Passionate
We value your business needs as highly as our own, which makes us passionate about your success. You'll see the difference in everything we do, whether it is adding a completely new sales channel, expanding numbers in an existing one, opening a new market, or consolidating all of your 3PL resources under one roof.
We at TAGG Logistics understand that you are passionate about your product quality, as well as the speed and integrity it takes in every step of the delivery process. We are working just as hard as you to meet the quality that your customers demand.
If you are looking to have a strategically placed fulfillment center to reach your customers on the West Coast, then contact the TAGG Logistics Nevada Facility!
Reno Lear Facility
10855 Lear Boulevard, Suite 105
Reno, NV 89506
314-991-1900
TAGG is Trusted by the Companies you love