Ecommerce order fulfillment is strong during Black Friday and Cyber Monday this year.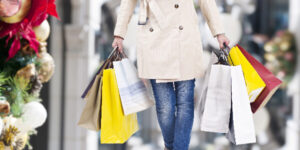 Now more than ever, consumers sit at their desks or reach for their phones to shop for the best holiday deals and rely on ecommerce order fulfillment to deliver the magic to their front door. Ecommerce has changed the face of holiday shopping for good, extending the days that consumers shop and shifting focus from Black Friday alone to Cyber Week (Thanksgiving through Cyber Monday). During this bellwether period for Ecommerce, mobile devices now account for nearly half of online sales.[1]
While inflation has definitely been on consumer's minds this holiday season, Cyber Week sales hit new records based on more transactions—not just higher prices. Online sales during America's biggest shopping day, Cyber Monday, reached a record $11.3 billion, keeping ecommerce order fulfillment providers busier than ever. This record is 5.8% higher than Cyber Monday sales in 2021. According to Adobe Analytics, online shoppers spent $12.8 million per minute that day.
Black Friday sales hit a record as well: $9.12 billion, up 2.3% from 2021. And holiday sales on Thanksgiving Day were $5.29 billion, a 2.9% increase over 2021.
In total, Cyber Week online sales will reach $35.27 billion in e-commerce order fulfillment. That's four percent over last year's results and will represent 16.7% of November and December sales. This data is based on one trillion visits to U.S. online retailers, representing 100 million SKUs and 18 product categories.
Deep discounting drove record results, with toys averaging price reductions of 34% and electronics as much as 25% off.[2] In fact, electronics saw the biggest sales increase on Black Friday, rising 221% compared to a typical sales day in October. Audio product sales advanced 230% and smart home products, 271%. Gaming consoles were a particular winner.[3]
Holiday discounting actually began as early as October, as CPG companies and retailers sought to reduce inventory levels and help offset the burden of inflation. But many shoppers waited until Cyber Week, hoping to find even deeper discounts. And they were rewarded with some of the biggest bargains of the holiday season to date.
Cyber Week sales results were closely in line with earlier forecasts—with Black Friday online sales projected in early October to be $9 billion, Cyber Monday at $11.2 billion and Cyber Week overall at $35 billion.[4]
Shopping trends this holiday season
During Cyber Week, mobile shopping was strongly in force, representing 55% of purchases on Thanksgiving and 43% on Cyber Monday, when consumers were back at their desks and more likely to shop from their personal computers.
While consumers bought in record amounts throughout Cyber Week, the impact of inflation increased the popularity of buy-now-pay-later (BNPL) deals. BNPL orders were up 85% over last year's Cyber Week—and revenue increased 88%.[5]
Indeed, inflation surpassed COVID-19 as the primary shopping concern in 2022. Just 16% of shoppers cited the pandemic as a barrier to shopping, while financial concerns caused by inflation grew by 153%.[6] Prices for basic necessities—such as rent, food and gas—are up this year, requiring shoppers to tap into their savings and credit options to pay for purchases. In contrast, the bigger concern last year was empty shelves, when COVID-19 caused severe supply chain disruptions worldwide.[7]
This holiday season, online sales of luxury retail goods have surged, representing 22% of the category and up from just 6% in 2015. Not too many years ago, these brands were concerned that ecommerce would diminish the brand experience. But these fears are fast becoming a thing of the past, as luxury brands turn to ecommerce order fulfillment partners to customize packaging, such as adding handwritten notes and hand-tied ribbons.[8] Luxury brands know the value of maintaining a consistent brand experience when selling online, and so does TAGG. We have been personalizing packaging for many of our customers for years.
In-store holiday sales see modest gains
According to the National Retail Foundation, approximately 166 million consumers were going to shop during Cyber Week, roughly eight million more than last year. But rainy weather on Black Friday kept many shoppers at home and stores saw smaller crowds than expected.[9]
Even so, in-store sales increased 2.9% on Black Friday, compared to last year. On Thanksgiving, in-store sales increased a massive 19.7%, as more stores opened their doors for the holiday.[10]
But the long checkout lines that Black Friday was once known for generally didn't appear this year. According to Salesforce, one reason may be the continuing popularity of BOPIS (buy online, pick up in store), which increased 20% compared to last Black Friday.[11]
The popularity of online shopping and BOPIS—not to mention the resiliency of shopping in person—reinforce why having an omnichannel fulfillment strategy is so critical to sales success. Whether your customers prefer to shop from their phones, walk into a store or use the broad and growing number of digital marketplaces and channels, you need to meet them where they are.
Planning ahead
Regardless of whether holiday sales continue to hit new records in December, CPG companies and retailers will want to choose the right ecommerce order fulfillment and omnichannel fulfillment partner to help them provide the brand experience consumers demand, no matter how they want that experience delivered.
To help manage the spikes in holiday sales, learn more about TAGG Peak Prep, our volume forecasting and resource allocation strategy. CPG companies and retailers leverage TAGG Peak Prep to improve inventory visibility, keep orders flowing, adjust staffing levels, keep online shoppers informed of delivery timing and more.
And to help ensure you meet consumer expectations however they choose to shop this holiday season and throughout the year, let TAGG tailor an omnichannel fulfillment solution for you. Contact us today to take Your Business Everywhere™ this holiday season—and beyond.
Contact TAGG Logistics Today!
Techcrunch.com. "Black Friday 2022 e-commerce reaches record $9.12B, Thanksgiving $5.3B; BNPL and mobile are big hits." November 26, 2022
Techcrunch.com. "Cyber Monday online sales hit record $11.3B, driven by demand, not just inflation, says Adobe." November 29, 2022
Axios.com. "Black Friday online sales break new record despite inflation woes." November 26, 2022
Businesswire.com. "Adobe Forecasts $209.7 Billion Holiday Season Online (U.S.); Cyber Monday to Top $11 Billion." October 10, 2022
Techcrunch.com. "Cyber Monday online sales hit record $11.3B, driven by demand, not just inflation, says Adobe." November 29, 2022
RISnews. "Holiday Retail Forecasts and Predictions for 2022." September 19, 2022
Axios.com. "Black Friday online sales break new record despite inflation woes." November 26, 2022
WSJ.com. "Warehouse Packing Help Wanted, Excellent Penmanship Required." November 22, 2022
Reuters.com. "Thin Black Friday crowds mark U.S. holiday shopping kickoff." November 25, 2022
NYPost.com. "In-store Black Friday shopping jumps, online records set." November 26, 2022
Retaildive.com. "Winners and losers of Black Friday 2022." November 26, 2022