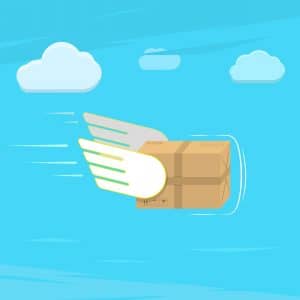 Three keys are essential to driving Your Business EverywhereSM in direct-to-consumer business today: order integration, processing speed and effective shipping. We've discussed the first two keys in earlier posts; now, let's take a closer look at #3, where hi-tech and hi-touch service come together to deliver your product to your customer's door. We call it effective shipping—and as the name implies—there's more to it than putting your product in a box and sending it on its way.
How do you achieve effective shipping? Start by tailoring the shipping methodology to your customer's expectations. What's the best way to deliver your product not only cost-effectively, but also on time—so you meet your customer's need for speed? With the right technology, that decision will never be guesswork. Your 3PL should have a robust transportation management system (TMS) that will automate every shipping decision for you—choosing the right carrier and route to meet delivery expectations, at the right price. At TAGG, our clients know that our TMS consistently recommends the lowest-cost shipping method for on-time delivery.
Speaking of shipping costs, your 3PL should also handle a lot of packages, so it can offer you significant volume discounts. TAGG receives volume rates from a variety of carriers employing a full range of shipping methods.
There's another factor to consider as well: the marketing value of shipping. The way you ship is an important part of your customer's brand experience. For example, you wouldn't want the U.S. Postal Service to put a premium product in a mailbox, with the rest of the mail. Instead, you'd want the more personal attention of a priority delivery service such as FedEx®. On the other hand, you could deliver commodity products via the regular mail with no brand perception issues.
What else can you do to make your shipping more effective? For many high-volume e-commerce retailers, the answer is stocking their products in multiple warehouses across the country. In other words, they keep their products close to their customers. And that means choosing a third-party logistics provider (3PL) with fulfillment centers strategically located nationwide, so your products can be delivered in just a day or two—no matter where your customers are. That's what we mean by delivering at the speed of NOW.
The TAGG fulfillment center network includes warehouses in Missouri, Nevada and Pennsylvania, ensuring delivery within that one- to two-day timeframe (in fact, most products in the continental United States can be delivered the very next day). Our newest warehouse is a 106,000 square-foot facility in Macungie, Pennsylvania that features the latest in fulfillment technology for high-volume clients. This facility ships to Northeast locations in just one business day and the entire East Coast within two.
As your sales volume grows, so too do the benefits of effective shipping. The right transportation management system can automatically ensure you're using the most-cost effective shipping method to deliver on time. An established delivery network with nationwide reach can inventory your products where they belong: as close as possible to your expanding list of customers. And the right 3PL can bring it all together, especially one that leverages volume discount rates to lower costs and improve the brand experience for your customers even more.
Talk to one of our principals today to learn more. Just call 866-991-8244 or fill out our contact form below. We will contact you promptly.