How TAGG Logistics and Canadian retailer Stokes team up to drive flash sales.
It may not be a household name (yet) in the United States, but Stokes is the largest kitchen, tableware and giftware store in Canada.
The leading retailer's success speaks for itself: with more than 150 locations across all 10 Canadian provinces and 23 stores internationally, Stokes has been steadily growing since its founding in 1935.
The challenge today is: how can Stokes build even stronger brand awareness in its neighbor to the south? One proven strategy is to hold flash sales on The Today Show and similar flash sale outlets. In addition to brand building, flash sales are also a strong source of sales volume. In fact, Stokes can sell more in a single flash sale that lasts just a few minutes than it can in all of its brick-and-mortar stores in an entire day.
But flash sales come with unique ordering, fulfillment and shipping challenges. How is Stokes meeting them?
The spark for successful flash sales
Partnering with the right third-party logistics provider (3PL) is essential. And Stokes found that perfect partner in TAGG Logistics. "I know I can count on the TAGG team," said Deidre Sewell, Director, Corporate Sales and Support for International Business. "TAGG knows what works from experience, supporting so many other brands that do flash sales. Every detail matters, such as knowing how to custom pack our products—or considering how shipping weight factors into our pricing and profitability. I know I can count on TAGG to educate me."
What makes flash sales significantly more challenging? Unlike traditional eCommerce fulfillment—in which inventory is stored in a warehouse and products are shipped as they are ordered—with flash sales products don't arrive at the warehouse until after they're sold.
For a 3PL, that requires a unique blend of people, processes and technology to meet customer expectations for speed and reliability. Plus, the 3PL needs multiple fulfillment centers—located strategically across the continent—to ensure products are located as close to the customers as possible, to help ensure timely delivery. TAGG delivers on it all—while taking a high-touch approach that makes it easier for Stokes to tailor flash sale strategies for maximum success.
Download the Full Case Study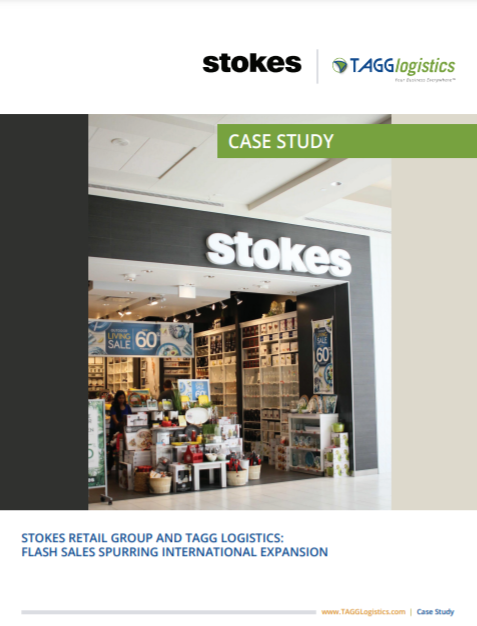 Learn how TAGG helps leading Canadian retailer, Stokes, with flash sales fulfillment in this case study
Creating a Seamless Brand Experience
Once the sales are made, the TAGG Team takes over, making the process turnkey and efficient for Stokes and its customers alike. A key component is handling customer inquiries after the sale.
TAGG is literally the customer service department for these sales—handling customer questions, issues and troubleshooting via email and phone. "TAGG understands the service expectations of American consumers and makes it simple for us to meet them," Sewell said.
Stokes and TAGG will continue to partner to grow the retailer's brand and sales in the US. "Everyone's in it together. If there's a problem, one of us will find a solution, and we'll all be smarter by the end of the day," Sewell said. "There's complete respect on both sides and very professional. I haven't had this strong of a working relationship before, and it's a good example of how TAGG's principals run their business. TAGG is great."
"Flash sales are another example of how we connect Your Business Everywhere™, said Tod Yazdi, TAGG principal. "We're proud of the part we play in Stokes' success and look forward to helping them expand their brand awareness and sales in the US for years to come."
TAGG is Trusted by the Companies you love