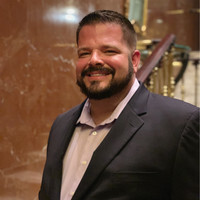 Today, we are launching a monthly blog series that showcases the deep expertise in e-commerce fulfillment, order fulfillment, and transportation that the TAGG Logistics team brings to the marketplace. For our first installment, meet our Brokerage Manager,  Chris Gonzalez.
Chris is based out of TAGG's Fairfield, Ohio location, where he is responsible for developing and managing TAGG's freight brokerage division, providing customers with competitive freight quotes and exemplary service. Chris joins the TAGG Logistics team as part of the LeSaint Logistics acquisition.
Prior to his current role, Chris served at various logistics and transportation companies, including CRST (Director, Business Development/ Director, Asset Light Recruiting), Swift Transportation (National Account Manager), Transpower Corp (Director, Operations), USXpress (Director, Operations/ Training/ Independent Contractors), and the US Army (SGT, Military Police). He holds a B.S. in Business Management from the University of Maryland.
Chris is married with 7 children (WOW!) ranging from 15 – 24 years old. While Chris always dreamed of becoming an Air Fighter Pilot as a kid, thanks to movies such as Iron Eagle and Top Gun, he now spends his free time cruising on his motorcycle, sailing, or hunting – all depending on the weather, of course!  And don't be alarmed if you hear him singing along to Sweet Home Alabama in the office. It's a personal favorite, and he has the song completely memorized!
Want to know more about the freight brokerage team at TAGG?
Meet Our Team