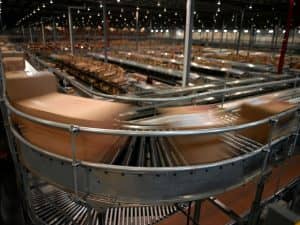 How does TAGG Logistics help you drive Your Business EverywhereSM? We focus on the three keys essential to direct-to-consumer commerce today: order integration, processing speed and effective shipping. In an earlier post, we discussed order integration. Here's more about the second key: processing speed.
It's no secret that consumers are more demanding today than ever. They want what they want—when they want it. Once they place their orders online, they expect those packages to arrive on their doorstep ASAP. At TAGG, we call this "fulfillment at the speed of NOW." To help you deliver that level of brand experience, your third-party logistics provider (3PL) needs to make every step of the fulfillment process run smoothly—from order to warehouse to truck to door.
What can your 3PL do to increase both speed and accuracy during this critical process?
Same-day picking, packing and shipping: You don't want your products collecting dust on a warehouse shelf. Your orders shouldn't be sitting around in a warehouse, either. Once an order is received, you want it fulfilled the same day: picking the right product at the right quantity, packing it in the most effective container and then choosing the best shipping method to deliver it both cost-effectively and on-time.
To be sure, it takes the latest technology do that. But you also need the right expertise to make the most of that technology on your behalf. At TAGG, we process every order with the right balance of hi-tech, hi-touch service. So every warehouse is stocked with the right quantities of the right products. And each warehouse is quickly and efficiently moving those products off the shelves and into your customers' hands.
Route each order to the right warehouse: If you're using multiple fulfillment points, you'll want to make sure each order is automatically routed to the warehouse that can fulfill the order fastest. The right warehouse is typically identified first by zip code and then by inventory availability.
Close the loop on customer service: An excellent brand experience is based on fast and accurate communications. Your customers want to know where their orders are, every step of the way. So after shipping, your 3PL should send a confirmation file back to your shopping cart. So you can send an order/shipping status email to your customer. At TAGG, we can also send these emails ourselves—to save our customers a step.
Most importantly, your 3PL should have the flexibility to customize these processes as your sales volume continues to grow. If your current 3PL isn't growing with you, it might be time to consider a switch.
As a nationwide company with distribution centers from coast to coast, we have the resources to keep pace with your growth. At the same time, you'll always work one-on-one with our principals. To us, that's what being a high-touch business is all about.
To learn more, please call 866-991-8244 or fill out our contact form. One of our principals will contact you promptly.