Sustainability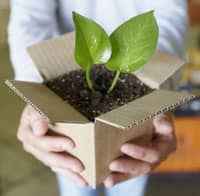 TAGG Logistics is dedicated to be a responsible corporate citizen in protecting the environment. As a third party logistics provider, TAGG manages processes, materials, and employees in order to reduce the environmental impacts associated with our work. We know that being an efficient and profitable business and being a good steward of the environment are goals that can work together.
Further, many of our clients sell natural and organic products.  These products need to be packaged and fulfilled by us reflecting the same care and values as our clients have – ensuring the customer gets a well packaged and thoughtfully presented product.
TAGG Logistics developed sustainable business practices to drive down logistics costs and created best practices in fulfillment, distribution and packaging. Sustainability means driving costs out of the system and making us all better stewards of the environment. We work closely with our clients to identify opportunities to create 'greener' fulfillment, including:
Reclaiming corrugate shipping cartons.
Reusing and/or sourcing biodegradable void fill.
Recycling pallets and all paper-based products.
Reducing paper-based transactions.