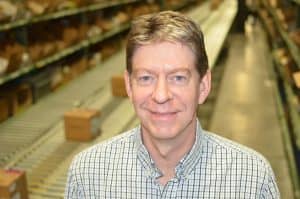 ST. LOUIS, MISSOURI, March 8, 2017…St. Louis-based TAGG Logistics, the nationwide e-commerce fulfillment, retail distribution and logistics provider, announces the addition of Randy Monroe as VP of Operations. Monroe will oversee all operational functions for TAGG Logistics.
Monroe brings to TAGG over 30 years of logistics and operations experience providing leadership and direction with overall responsibilities for financial and operational performance, continuous improvement, staff development, safety and productivity metrics. Prior to joining TAGG, Monroe had served at multiple manufacturers, logistics providers and distributors as a Supply Chain Consultant. His experience includes working with Supervalu, Mallinckrodt and Ozburn Hessey Logistics (OHL). In addition, Monroe recently served at a local community college, developing and instructing an ongoing logistics training program.
"A fast and efficient supply chain is necessary to compete effectively," said Gary Patterson, President. "Randy will be a vital resource to TAGG and our clients by providing the expertise needed to help form that competitive supply chain for today's omnichannel retailer."
Throughout his career in operations, Monroe has focused on implementing and monitoring metrics to drive efficiency utilizing a variety of lean tools. Monroe also has a strong IT acumen and understands the balance between operational efficiency and IT infrastructure.
About TAGG Logistics
TAGG Logistics is the nationwide fulfillment, distribution and packaging provider built to deliver Your Business EverywhereSM  by efficiently serving consumers when, where and how they shop today. TAGG helps deliver this brand experience for healthcare and consumer products companies via e-commerce order fulfillment, retail distribution services, contract packaging, reverse logistics and kitting and assembly. To learn more,