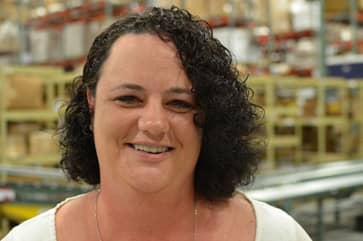 ST. LOUIS, MISSOURI, NOVEMBER 19, 2014… St. Louis-based TAGG Logistics, the third-party e-commerce fulfillment, retail distribution, and logistics provider to mid-sized healthcare and consumer products companies on the move, announces the addition of Amanda Hearn as Quality Manager. Hearn will have company-wide responsibility for quality assurance and regulatory compliance.
Hearn has over 15 years of experience with quality management in the defense and financial services industries. Most recently, she served as Quality Manager for global consulting firm SAIC, where she worked in multiple disciplines supporting United States military maintenance, supply, logistics, and support activities in Kuwait. Hearn's professional certifications and memberships include ISO 9000:2001 Internal Auditor, ISO 9001:2008 Lead Auditor, American Society of Quality (ASQ), and Six Sigma certification.
As the Quality Manager, Hearn will be responsible for planning, designing, implementing and managing quality control and quality assurance processes, procedures, and documentation. Hearn will also oversee all regulatory compliance for TAGG's healthcare and food-related client base. "I am excited about the opportunity to expand the quality program within the organization and to specifically sharpen the focus on quality and compliance," Hearn said.
"Today's supply chain not only has to be fast and efficient, but also safe and up to the high quality standards consumers deserve," said Gary Patterson, President of TAGG Logistics. "In addition, there is growing complexity in the regulatory environment for healthcare products. Amanda will be a vital resource to ensure quality control and regulatory compliance for TAGG's clients in product categories such as surgical devices, supplements, dietary aids, over-the-counter remedies, and durable medical equipment."
About TAGG Logistics
TAGG Logistics is a leading fulfillment, distribution, and packaging provider for mid-sized healthcare and consumer products businesses that have outgrown their current capabilities. TAGG provides e-commerce order fulfillment, retail distribution services, contract packaging, reverse logistics, and kitting and assembly via its St. Louis operations and West Coast fulfillment center in Reno, Nevada. To learn more, visit www.tagglogistics.com or call 866-991-TAGG.