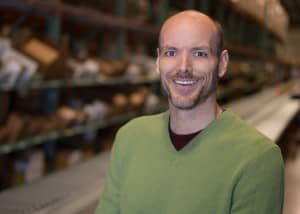 ST. LOUIS, MISSOURI, February 17, 2016… St. Louis-based TAGG Logistics, the third-party e-commerce fulfillment, retail distribution and logistics provider to healthcare and consumer products companies, announces the addition of Doug Van Horn as Chief Technology Officer. Van Horn will oversee all Information Technology services at TAGG Logistics and help support the company's growth in omnichannel fulfillment.
Van Horn brings to TAGG over 20 years of information technology and systems integrations experience, providing leadership to TAGG's technology team and expertise to TAGG's suite of integration and EDI applications, warehouse management system and transportation management system. Van Horn most recently served as Director of Application Development at PBS Corporation, managing the development of on-line educational products and applications. Previously, he served as President of May Digital Solutions developing client applications, including e-commerce, content management, order management and system integrations.
"Consumers are demanding options when it comes to where they purchase products. Therefore, retailers must support an ever-changing variety of sales channels and need a fulfillment partner ready to deliver their product wherever they need it. This type of supply chain is very much technology-driven." said Gary Patterson, President. "Doug's skill set across a variety of commerce platforms, brings to TAGG, and to our client base, the knowledge and experience to ensure a seamless application of technology is used to receive and process orders and ship product."
Throughout his career in information technology, Van Horn not only founded and owned his own website design and development company, he also developed software for major U.S. corporations such as Bank of America, Charles Schwab, Goldman Sachs and MasterCard. He has excelled in numerous web programming languages, including Python, Javascript, HTML, and CSS, along with his strong experience with project planning and delivery, application design and full-life cycle software development. Van Horn will play a key role in integrating a multitude of client systems, ranging from ERPs, to order management systems to shopping carts with TAGG's various supply-chain applications.
About TAGG Logistics
TAGG Logistics is a leading fulfillment, distribution and packaging provider for healthcare and consumer products businesses that have outgrown their current capabilities. TAGG provides direct-to-consumer order fulfillment supporting a variety of e-commerce platforms, including shopping carts, flash sales, subscription boxes and daily deal sites. TAGG also provides business-to-business retail distribution services, contract packaging, reverse logistics and kitting and assembly via its St. Louis operations, West Coast fulfillment centers in Reno, Nevada and East Coast facilities in eastern Pennsylvania. To learn more, visit www.tagglogistics.com or call 866-991-TAGG.