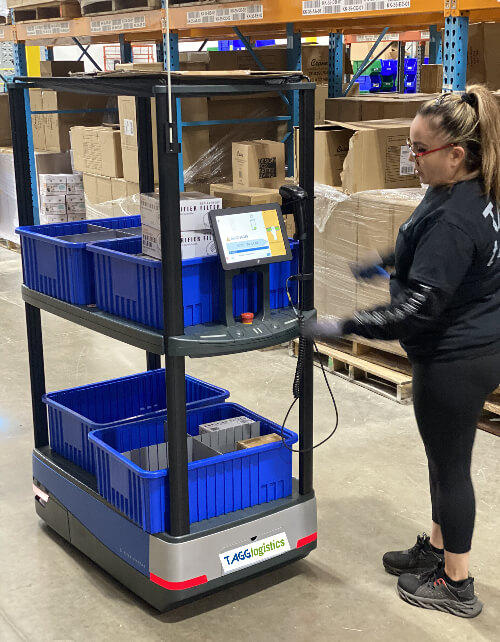 When you team up with TAGG as your 3PL fulfillment partner in Chicago IL, robots automated picking carts will now help fulfill your orders.  TAGG's Chicago Il Order Fulfillment Center is located at 501 Frontage Road, Bolingbrook, IL 60440, and serves the Midwest.
Today, TAGG Logistics, a nationwide 3PL fulfillment partner, announced it has launched autonomous picking cart technology in its Chicago, IL order fulfillment center. The autonomous pick carts are the latest in DTC order fulfillment technology from TAGG's technology partner, 6 River Systems (6RS). They use artificial intelligence and machine learning to increase speed, accuracy, and efficiency for all aspects of fulfillment center operations.
Today's announcement comes after a series of other location-specific launches in the:
"When we expanded our 20-year footprint in the Chicago, IL omnichannel fulfillment market last year, our goal was to bring the newest, fastest, most cutting-edge technology to our clients who operate in this region," says Doug Carr, Chief Operating Officer at TAGG Logistics.
Immediate Space Now Available at Chicago Il Order Fulfillment Center at 501 Frontage Road, Bolingbrook, IL 60440!
Combining the right location with the latest technology and deep logistics expertise, the Chicago, IL order fulfillment center further helps TAGG deliver Your Business Everywhere™ to 99.7% of the U.S. population within one to two days. Right now, you can take advantage of a centralized Chicago, IL fulfillment location with the latest in automation and robotics. Inquire today at by for your order fulfillment center options.
Located in Prologis Park Bolingbrook at 501 E South Frontage Road, the Chicago, IL omnichannel fulfillment center has 326,000 square feet of operational space fulfilling thousands of e-commerce orders each day. It serves 20+TAGG customers in such diverse fast-moving CPG industries as healthcare fulfillment, nutritional supplements, housewares, home fixtures and more. Become one of them today by contacting us now.
"Autonomous pick carts help our employees be more productive, increase accuracy and get orders out the door faster. In today's tight labor market, that means our employees are happier and set up for success," continues Carr.
Here's how autonomous pick cart technology works:
The robotic carts leave the induct queue with a designated picking sequence and empty totes. It travels by itself to designated meeting points in the fulfillment center.
Here they meet a TAGG associate and guide them through the pick sequence using the most efficient path, which is determined using AI. In fact, the carts will continue to learn and refine routes over time.
The associate picks products into the totes on their cart, fulfilling one—or many—orders. Totes can have dividers put in them to pick up to 4, 8 or 16 orders at a time.
Once the sequence is complete, the robotic cart returns by itself to the off-load location where picked orders are removed and placed on the conveyer to pack stations.
Then, the cart returns to the induction point to be given a new pick sequence and empty totes—or if its battery is running low, it will go straight to the nearest charging station.
Since the robotic cart returns to the offload station by itself, the associate is immediately freed to go to a meeting point, meet another cart, and begin a new pick sequence.
The robotic carts do several things to accelerate the fulfillment process. First, they eliminate picker travel time by allowing the picker to remain in the picking aisles. Next, they automatically optimize the travel path—and use AI and ML to get smarter and more efficient over time. They also enable associates to pick multiple orders simultaneously—faster and more accurately.
The results are measurable. TAGG clients have experienced nearly immediate results from the robotic implementation, especially since it's a technological innovation that is particularly well-suited for small parcels and direct-to-consumer applications in industries like CPG.
"For one of our clients in the CPG industry, automated picking carts have improved their direct-to-consumer (DTC) order fulfillment time by 20-50 percent, depending on the shipment. This results in TAGG being able to flex up and handle even more orders for our customers," Carr says.
As TAGG continues to roll out this new technology to more fulfillment centers, they expect to see even more great results.
Are you getting the most from your fulfillment partner? When evaluating a fulfillment partner, it's important to look at their ability to meet your key performance indicators, including speed and accuracy. Make sure to ask what technologies they have in place to support these critical statistics—it will make a difference in the ability to get your products in the hands of your customers quickly. TAGG Logistics can help you use the latest technology to take Your Business EverywhereSM, we'd love to be your 3PL fulfillment partner.
Need a Chicago-based fulfillment solution? Request a tour today of TAGG's cutting-edge Chicago, IL fulfillment center!