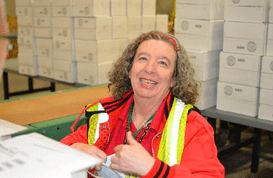 ST. LOUIS, MISSOURI, OCTOBER 28, 2014… St. Louis-based TAGG Logistics, the third-party distribution, fulfillment and logistics provider to mid-sized healthcare and consumer products companies on the move, is celebrating the one-year anniversary of providing employment opportunities to persons with disabilities at its St. Louis fulfillment center.  TAGG partners with local, not-for-profit Valley Industries, to create a supervised enclave of employees working on kitting and assembly projects for company clients under the guidance of Valley Industries professionals.  "Our partnership with Valley Industries has allowed us to continue their mission of providing dignified and meaningful employment to adults with developmental disabilities in an inclusive environment at TAGG's facility with TAGG employees," said Tod Yazdi, principal.
The supervised enclave is an extension of services Valley Industries provides at its contract packaging facility in Hazelwood, Missouri.  Valley is partially funded by The Productive Living Board (PLB) for St. Louis County Citizens with Developmental Disabilities.  The PLB was established to develop services and support for residents with developmental disabilities, including vocational services that focus on a person with a developmental disability obtaining and maintaining meaningful employment in the community.  "TAGG has allowed us to place individuals working alongside their workforce in an environment where they can, learn, grow and be productive," said Jim Guyre, Executive Director of Valley Industries.  "Inclusive employment outcomes, which integrate individuals while still providing safe, sheltered and structured support, are fantastic opportunities for our employees and their families."
One such employee is Tonya Joins.  Tonya has been a Valley Industries employee for over 35 years.  For the past year, she has been working in the enclave at TAGG's fulfillment center.  Joins works on a variety of kitting and assembly projects for TAGG, such as assembling point-of-purchase displays, relabeling products and packaging items into kits.  "Being able to work in a larger group with a mix of both developmentally disabled individuals and TAGG employees has given Tonya a greater sense of responsibility and confidence," said Lila Joins, Tonya's mother.  "She looks forward to going to work and feels a heightened sense of belonging."
TAGG's growth in e-commerce fulfillment and outsourced retail distribution continues to drive increased demand for kitting, assembly and packaging projects.  "We fulfill e-commerce orders for online retailers and also ship product to major retail outlets such as Walmart, Target and Walgreens.  Our clients are always looking for help with other value-added services." said Yazdi.  "TAGG plans on expanding its partnership with Valley Industries over the coming months to give us the pleasure of working with, and learning from, more individuals like Tonya."
About TAGG Logistics
TAGG Logistics is a leading fulfillment, distribution and packaging provider for mid-sized healthcare and consumer products businesses that have outgrown their current capabilities. TAGG provides order fulfillment, retail distribution services, contract packaging, reverse logistics and kitting and assembly via its St. Louis operations and West Coast fulfillment center in Reno, Nevada. To learn more, visit www.tagglogistics.com or call 866-991-TAGG.
About Valley Industries
Valley Industries was established in 1967 and provides outsourced, flexible contract packaging and assembly.  Valley Industries is ISO 9001:2008 certified and committed to customer satisfaction through audited quality processes. Our 501C3 not-for-profit mission is to provide dignified and meaningful employment for adults with developmental disabilities while providing outstanding quality and services for our valued customers. Valley Industries receives its certificate of authority to operate a sheltered workshop from the Missouri Department of Elementary and Secondary Education (DESE).  Workshops in Missouri operate under a unique industrial model and receive no federal funding like in other states.  Valley Industries is a member of the Missouri Association of Sheltered Workshop Managers (MASWM).   To learn more, call 314-731-1771.