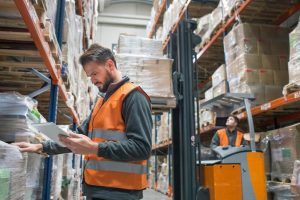 TAGG Logistics is pleased to announce, for the third year in a row, the successful completion of the NSF International Audit. The NSF audit is a warehouse and distribution center food safety, sanitation and quality audit that focuses on daily practices and overall operations of the fulfillment center.
The NSF audit plays a critical role in verifying proper food safety practices at food storage and distribution facilities, as well as operations specializing in healthcare and medical products fulfillment. It was a full day review focused on validating our internal processes and procedures regarding appropriate monitoring and control measures that focus on food safety, quality and defenses, as well as to ensure that our processes are compliant with the current Good Manufacturing Practices (cGMPs). TAGG utilizes an internal monthly GMP audit checklist to maintain these good manufacturing practices at all times. Our quality management system is structured to guarantee that all GMP's and quality assurance processes are properly executed and documented on a daily basis, which enables us to remain compliant with all applicable regulatory standards.
The audits are scored by percentage with a 1% deduction for each minor non-conformance identified during the audit. TAGG Logistics passed with a "Meets Expectations" rating of 99%.
Third party validation of the internal procedures and quality management systems of food and healthcare supply chains are essential to maintain the high-level of standards put on these specific product providers. To learn more about TAGG Logistics and our recent audit, please fill out our contact form or give us a call at 866-991-TAGG!