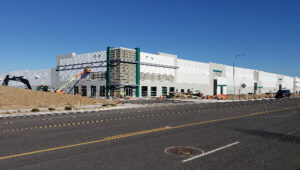 TAGG Logistics, now part of Hub Group, has opened a new ecommerce order fulfillment center in Reno, Nevada. This 'new construction' fulfillment center is strategically located to meet all omnichannel fulfillment requirements, with an ideal location off I-395 and less than one mile from the Reno-Stead airport. The fulfillment center address is 10755 Lear Boulevard, Reno, Nevada 89506.
Reno, NV fulfillment operations are perfectly suited to reach West Coast consumers within 1-2 day shipping timeframes. Reno boasts a dry, mild, low-humidity climate ideal for the storage of a wide range of product types. With 532,000 square feet of storage space and 99 dock doors, this marquee fulfillment center location presents an immediate opportunity to store and distribute products from an FDA and NSF-certified, high-performance fulfillment center.
"We have an established presence and proven track record for more than 9 years on the West Coast with a strong footprint in the Reno, NV area. Our tenured staff, management team and carrier relationships have fast tracked the opening of our newest fulfillment center in the area, serving customers across an even wider spectrum of products" says Tod Yazdi, President of Fulfillment at Hub Group and former CEO at TAGG Logistics.
In fact, Reno, NV is an ideal fulfillment hub in a business-friendly state with a desirable climate, affordable real estate and several tax benefits. That's why companies such as General Motors, Sherwin Williams, Barnes and Noble and Wal-Mart are all calling it home for various aspects of distribution operations. (1)
As a leader in omnichannel fulfillment and ecommerce order fulfillment, TAGG delivers a wide range of services well beyond basic fulfillment from it's Reno, NV fulfillment center, including these value-added, specialized services:
TAGG Logistics is part of Hub Group, one of the industry's leading experts in retail freight consolidation and shipping.
Our retail solutions offer more formalized freight consolidation programs into the nation's leading retailers than any other logistics provider, allowing us to tailor a full outsourced solution for your entire supply chain. Our retail consolidation programs give you the competitive advantage by ensuring full retailer compliance, exceptional service levels and increased visibility into your supply chain. We work with the largest retailers in the country, customizing programs that reduce transportation costs, inventory holding costs, and dock congestion, while improving delivery times.
From the newest Reno, NV fulfillment center, our clients can now achieve one day transit times to more than 60 million consumers. As well, products fulfilled from the Reno, NV fulfillment center can ship out with two day truck service to 11 Western states, and come inbound from suppliers arriving to West Coast ports in less than 1 day.
Interested in fulfilling your products from the Reno, NV Fulfillment Center? Inquire about space in Reno today.
Learn More
Source 1: https://www.nnbw.com/news/2004/dec/26/why-is-reno-a-logistics-hub-it-all-starts-with-loc/</sup?