Freight consolidation to retailers, also called retail consolidation, is a strategy that many major consumer brands are adopting. A freight consolidation program combines freight from several suppliers into a single shipment that is sent. Since retailers often receive freight from vendors in multiple LTL shipments, this makes good sense. It can be expensive to deliver all of these LTL shipments separately.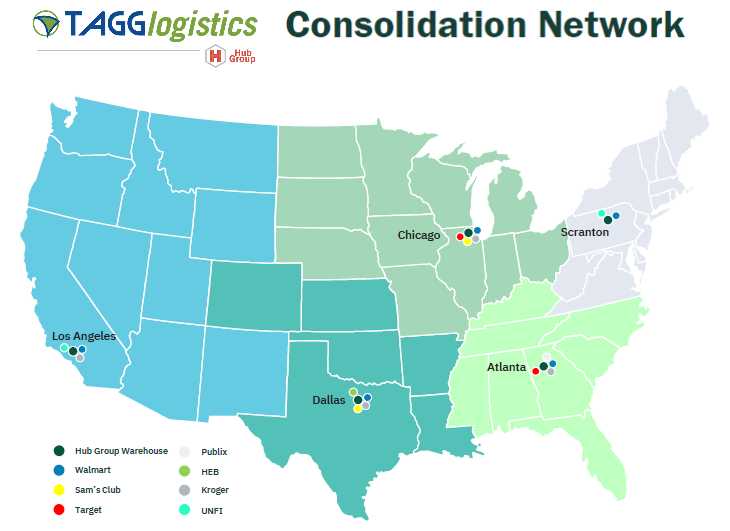 With competition amongst retailers more heated than ever before and retailer shipping requirements more stringent than ever, many retailers and CPG brands alike are looking for new ways to keep costs down, while also becoming more efficient, more productive, and providing better service at the same time. Combining and consolidating inbound shipments from suppliers creates benefits not only for retailers, but for CPG companies and other suppliers as well. That's why this kind of freight consolidation program is frequently becoming part of many major retailers' compliance requirements for all their suppliers.
Major retailers are definitely on this path and more are following — but you may be asking, what's the benefit for vendors like my CPG company? Let's dig into that a little more.
Reducing the cost of transportation. The first benefit is simply the ability to take advantage of scale. When you combine your shipment with that of other suppliers, you are able to get full truckload rates. Each supplier only has to pay for their portion of the capacity used in each shipment. The retailer benefits because they have to receive fewer shipments, taking some of the burden off their docks and staff. The vendors win because they get a better rate to ship goods — significantly lowering overall transportation costs.
Getting rid of costly — and annoying — retail compliance fines. Freight consolidation programs are structured around meeting a single retailer's unique delivery requirements. With the support of a full-service 3PL, this means you have someone to coordinate among multiple suppliers to fulfill the requirements and stay in compliance. That kind of expertise is invaluable, because you no longer have to go it alone. If your CPG company is like most growing brands, you are delivering to multiple retailers that each have their own set of compliance rules. Freight consolidation means you have an expert on your side to ensure that someone with the experience and knowledge is managing the entire process for you. Now, you can have peace of mind that each shipment will go smoothly — radically reducing or even eliminating the unpleasant surprise of fines for compliance violations.
Improving inventory holding costs. With the ability to consolidate your shipments with those of others, you can move inventory out more quickly to the retailers who need it most — and be more responsive. When you can move inventory rapidly, you can reduce the time holding inventory and inventory handling too.
As you can see, there are many bottom-line reasons to consider freight consolidation to retailers. Yet the most compelling reason may simply be that you can provide a higher level of service and a smoother experience for your valued retail customers — and that's good for business.
TAGG has the freight consolidation experience that makes a difference.
TAGG Logistics and our parent company, Hub Group, have deep experience in omnichannel fulfillment and the know-how to manage even the most complex freight consolidation program. From establishing a standard predetermined delivery schedule for participating suppliers, to ensuring compliance requirements are met with flying colors, we take the complexities of omnichannel fulfillment and retail partner compliance off your hands.
What's more, TAGG provides end-to-end visibility with Tier 1 technology capabilities. You can track your consolidated shipments every step of the way and know exactly when they are delivered and received by retailers. That kind of real-time visibility makes consistent, regular communication possible for all those that need accurate, timely information — including suppliers, vendors, transportation carriers, and retailers.
As you can see, the shifting demands retailers face today require what TAGG Logistics has delivered all along: a tailored, omnichannel fulfillment strategy and retail consolidation in markets including Dallas, Atlanta, Chicago, Los Angeles and Scranton that take Your Business Everywhere™. Contact us today to learn more.
Contact TAGG Logistics Today