Kroger Order Fulfillment and Distribution Services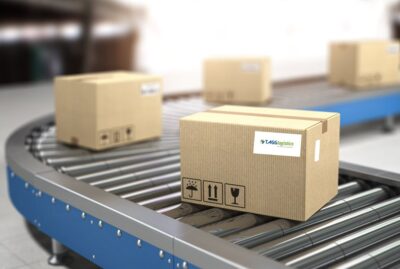 Discover Why TAGG Logistics is the best provider for fulfillment and shipping to Kroger.
TAGG Logistics is the leading 3PL fulfillment provider for consumer brands in healthcare, nutritional supplements, cosmetic & beauty products and personal care products sold in Kroger retail stores and online.
If you're shipping more than 2,000 orders/parcels a week, TAGG Logistics is the best provider for fulfillment and shipping. We work with each consumer product manufacturer to design an omnichannel fulfillment solution, ensuring that products are successfully fulfilled for all sales channels, including direct–to-consumer ecommerce order fulfillment, and in-store retail consolidation. We help our customers meet the unique routing guide requirements and EDI compliance standards that Kroger has for every kind of order and shipment. For example, we have also developed procedures to ensure all pallet configurations, advanced shipping notifications (ASNs), delivery appointments, and every specific shipping requirement is met. Finally, we also have deep expertise in handling holiday peak season demand, flash sales fulfillment and special promotions, end cap build-outs, product packaging, kitting, and labeling, shelving requirements and other documentation.
Retail, CPG and Healthcare Industry Experience
As an expert in retail distribution, TAGG has proven, deep expertise helping CPG and Healthcare brands in core areas such as: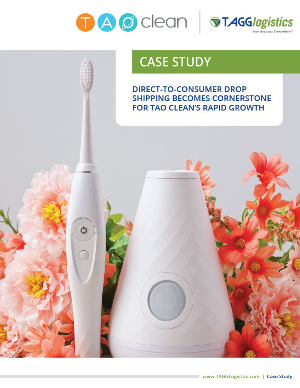 TAO Clean partners with TAGG to fulfill personal care products
TAO Clean, a leading manufacturer of personal care products such as sonic toothbrushes and facial brushes, has exceptionally high standards for precision and performance. That's why they've partnered with TAGG Logistics for an exceptional fulfillment solution. As a result, direct-to-consumer drop shipping and ecommerce order fulfillment have now become cornerstones for TAO's rapid growth.
Read more about TAGG's retail distribution solution for TAO in this case study.
ROUTING GUIDES
Fulfilling and Distributing Product in a Routing Guide Environment Routing guides are published by retailers like Kroger for manufacturers and wholesaler/distributors to establish a set of requirements for fulfilling orders and shipping product to the retailer's stores or distribution centers. If this guide is not observed or challenged, the retailer can deduct a percentage of the invoice, percentage of the purchase order or a set amount from their remittance as a penalty.
Read more about the routing guides here.  
EDI COMPLIANCE
TAGG's Partnership with SPS Commerce for EDI SPS Commerce powers global trading relationships with the industry's most broadly adopted retail cloud services platform for Electronic Data Exchange (EDI). When our customers leverage TAGG's partnership with SPS Commerce, they become part of the world's largest retail trading community, made up of tens of thousands of retailers, suppliers and logistics firms who use the cloud-based solution to excel in omnichannel retail. Would you like to learn about how TAGG and SPS rapidly integrate to retail companies and their trading partners to create a seamless fulfillment process, regardless of the channel originating the order?
Contact us today.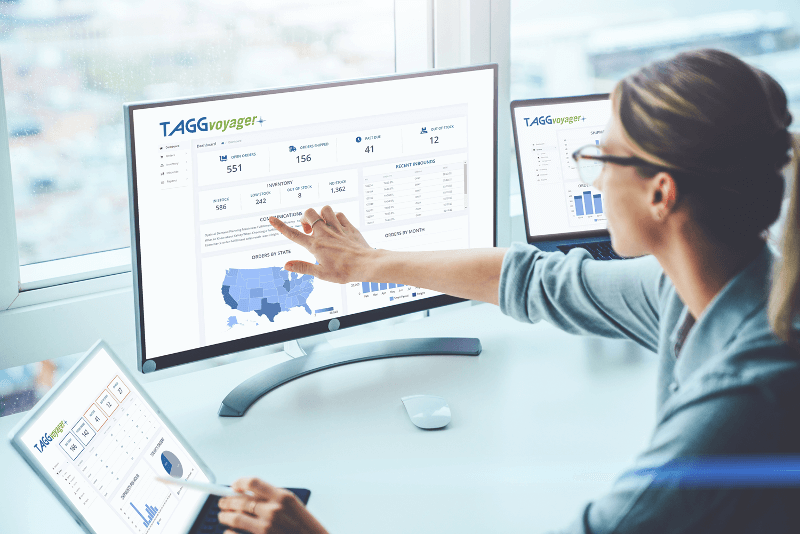 TAGG VOYAGER: Your Portal to Higher Profits
TAGG Voyager, our customer portal for end-to-end order visibility, and other Order Management Platforms help you expand your DTC and Omnichannel sales to take Your Business EverywhereSM.
Learn More about TAGG Voyager here. 
NEED HELP FULFILLING PRODUCTS TO KROGER?
Contact us today at 1-866-991-TAGG or by completing the form below.
TAGG is Trusted by the Companies you love