TAGG Voyager
Voyager: TAGG's Client Portal technology to take Your Business Intelligence Everywhere SM
TAGG Voyager: Versatile order fulfillment capabilities for your entire team
From the C-Suite to Customer Service and Inventory Planning, TAGG Voyager has a comprehensive set of features and functions perfectly tuned for every member of your team.
Client portal technology platform for omnichannel fulfillment and order management that helps you:
Make better decisions across your order fulfillment network
Deliver an exceptional customer experience
Plan and manage inventory smarter
Real-Time Data
Real-time self-service and visibility to orders and inventory across your fulfillment network
Decision-Making Support
Benefit from a variety of order management and decision-making support capabilities
At TAGG, we get it! The C-Suite executives we work with juggle a lot — and that means they need fast, easy tools to not only monitor what's happening in fulfillment, but to also make decisions about how to manage fulfillment smarter.
Here's how TAGG Voyager helps:
It provides an Executive Dashboard that contains the most critical information your C-Suite needs to know, including important details about what's happening across the order fulfillment network. The key performance indicators found in TAGG Voyager provide the business intelligence the C-Suite needs to improve service, reduce costs and continuously improve your fulfillment operation.
Ready for a collaborative partnership – in real-time – with your fulfillment partner, facilitated through technology? You'll get it all with TAGG Voyager. For example, daily monitoring includes visibility to open orders, orders shipped today, orders past due and out-of-stocks. You can get full network visibility to inventory positions, recent inbound shipments/inventory, orders by state, and orders by month.
Best of all, if you're too busy to log-in, Voyager has automated reports that your admin can schedule to be emailed to you on whatever cadence you need.
When you work with TAGG Logistics as your fulfillment partner, TAGG Voyager gives you customer service representatives the tools they need to succeed. At TAGG, we understand that the last thing you need is to have your customer service reps racing around to multiple sources or multiple systems to get the information a customer needs.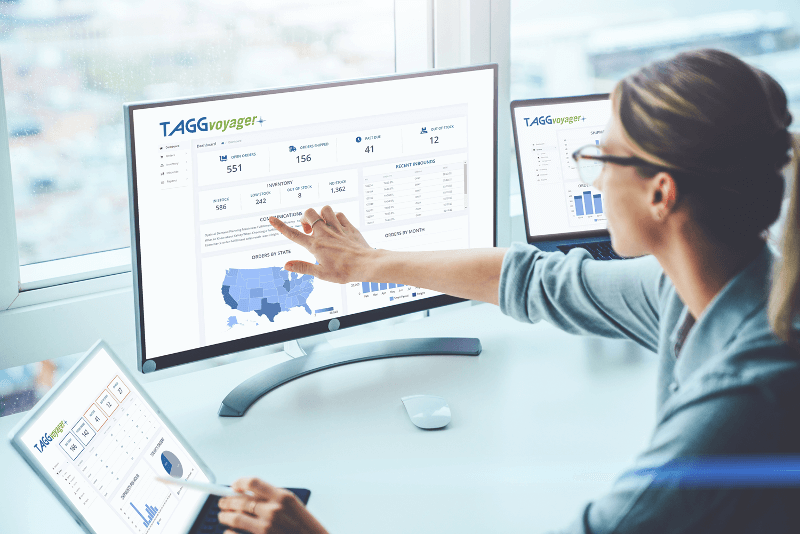 Speed up response times and increase customer satisfaction with TAGG Voyager!
Here's how we do it: We provide customer service reps with the order information they need at the tips of their fingers, all from a single system with an intuitive user interface. As a result, reps can handle customer inquiries related to checking order statuses, providing estimated arrival dates and times, updating order details and tracking shipped orders.
Even better, TAGG Voyager lets your reps change orders in real-time!
They can add new items to an existing order, cancel items within an order or cancel a full order, sending all of the new data in real-time to TAGG's fulfillment center for immediate adjustments.
BONUS! Voyager will even allow your customer service reps to view orders by channel and shipping type, and break out your orders into groups for DTC, B2B, B2B Freight and Kitting Jobs.
An inventory planner's worst nightmare is a growing backlog of out-of-stocks with no visibility to when supplier replenishment inventory will arrive. With TAGG Voyager, you can prevent out-of-stocks before they happen, and replenish inventory when and where you need it.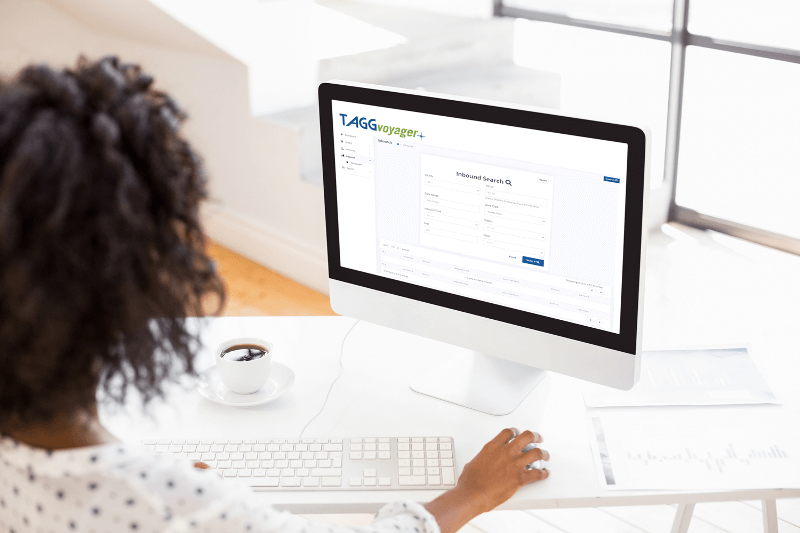 Here's how we do it: TAGG Voyager provides visibility to what's happening across all inventory in all locations, so you know when its time to re-order and make other SKU/product portfolio adjustments. We help you manage inventory smarter, with the ability to understand inventory positions (in stock, no stock, OOS, low stock), set and manage inventory thresholds and manage product expirations and aging products.
Ever wonder when your replenishment inventory will arrive from your suppliers? We've got that covered too! TAGG Voyager gives visibility to inventory coming inbound to the fulfillment center from your suppliers, and even tracks key metrics for inventory putaway.
BONUS! TAGG Voyager also monitors product returns coming inbound to the fulfillment center!
TAGG Voyager Helps You:
Make Better Decisions across your Fulfillment Network
TAGG Voyager helps you make more informed accurate business decisions from the C-Suite and beyond. It provides a single at-a-glance executive dashboard for all of the most critical aspects of your fulfillment network. Need business intelligence to improve service? What about insights to reduce fulfillment costs? Need to identify what your next continuous improvement project should be? Find it all in TAGG Voyager.
Deliver an Exceptional Customer Service Experience
TAGG Voyager empowers your customer service representatives with the information they need at their fingertips. From the easy-to-see and easy-to-navigate interface, customer service representatives can report on order statuses, track shipments in real-time and route, cancel and manage orders based on customer requests.
Plan and Manage Inventory Smarter
TAGG Voyager also provides inventory planners with the tools they need to be successful. It allows them to stay ahead of inventory replenishment before out-of-stocks happen. It also allows them to track and manage inbound inventory from suppliers. Finally, they can track soon-to-expire products and out-of-date products in order to retire them from your company's inventory.
Need Seamless Integration?
We've got that covered too! TAGG Voyager integrates seamlessly with our fulfillment center WMS, Cadence. Cadence accepts nearly all types of EDI, API, and flat file feeds coming from your company. It even integrates with a wide variety of ERP systems. Cadence WMS data feeds into TAGG Voyager for the ultimate visibility and an exceptional experience in interface and functionality.
TAGG is Trusted by the Companies you love