Our approach to pricing your fulfillment, distribution and kitting costs is to keep things as simplistic and straightforward as possible. We want our pricing to be transparent and we work to educate all our clients as to the exact costs they can expect from TAGG. There will be no surprises!
There are three main pricing categories that logically follow the flow of goods thru our system:
1. There is a charge for receiving the product and inbounding it into the warehouse.
2. There is a monthly storage fee based on the amount of space taken at a TAGG facility.
3. There is a fee generated for each order/outbound. This fee is broken down into two components, a fixed fee per order and a variable fee for the items in the order.
Other fees associated with fulfillment and distribution might be packaging, quality control inspecting and/or shipping and delivery costs. In addition, kitting and assembly costs are priced per project and are often based on time studies or time & effort calculations.
For more information on pricing, see our article
"Fulfillment Center Pricing: It's Apples to Oranges to Bananas…" Read more
TAGG's Fulfillment Cost Calculator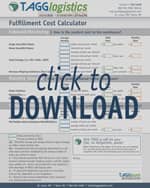 A quick and easy guide to estimated your monthly fulfillment cost. Print it out and then give us a call, we can fill in pricing for you!
Download PDF