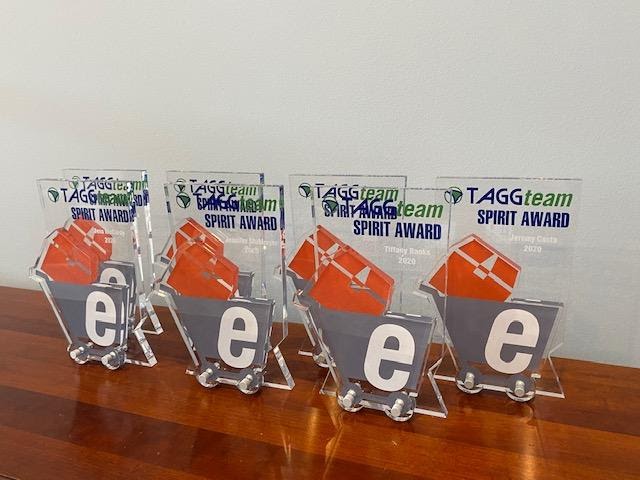 We are pleased to share that we have awarded the TAGG Team Spirit Award to seven hard-working, high-performing members of our team this month!
The TAGG Spirit Award is a new award designed by our senior leadership team to recognize employees who make a difference throughout the organization. These individuals go above and beyond their daily activities and do whatever it takes to get the job done. Each winner has a passion that drives TAGG forward and a spirit that never gives up.
Today, we are pleased to recognize the outstanding contributions of:
Melody Moore, EHS Director. Melody has done a phenomenal job keeping the COVID Task Force informed and up-to-date on laws and law changes by state or county.  She has also created policies and procedures around COVID.
Jess McCurdy, Quality Manager. Jess is based out of St. Louis, Missouri, and has proven to be completely indispensable, balancing her quality control work while still meeting the needs of our clients in fast-paced flash sales fulfillment.
Javier Espinoza, Project Manager. Based out of our Illinois fulfillment center, Javier has been on the road constantly for the last nine months, spending time onsite at 6 different facilities in 2020, often traveling between sites with less than 24 hours notice.
Tiffany Banks, HR Manager. Tiffany is based in our Memphis, Tennessee location. She was hired in January 2020 and has successfully hired over 145 people in the Memphis location in less than a year's time — before and during the facility's opening.
Jen Stuhlreyer, Billing Supervisor. Jen has been a strong team player based out of our Fairfield, Ohio facility, going above and beyond to assist in a number of opportunities and challenges with both customers and transportation carriers.
Tim Kilpatrick, DC Manager. Tim is our DC manager based out of Fontana, California locations. Tim has brought much-needed stability and professionalism to the Fontana operations.
Jeremy Costa, Operations Supervisor.  Based out of Reno, Nevada, Jeremy has been a huge contributor when it comes to new client launches and played critical roles throughout the company merger.
In the coming weeks, we'll publish a more detailed profile on each of these exemplary TAGG team members.  In those profiles, you'll get to know them better, along with their tricks-of-the trade that have made to successful in their roles.  Stay tuned!