Drive new efficiencies in your ecommerce order fulfillment and omnichannel fulfillment processes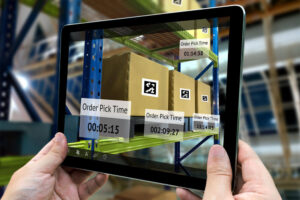 Getting the right inventory in the right omnichannel fulfillment centers with the right speed to market for the right cost is always top priority—but it can be a complex equation to balance. At TAGG, we understand how critical it is for you to deliver ongoing value through improved ecommerce order fulfillment and omnichannel fulfillment, as well as enhancing your brand with seamless, timely experiences for your customers.
Mike Moorham, TAGG Logistics' Director of Engineered Solutions, says that, "Most small- to mid-size companies don't have their own logistics analytics or engineering team. It is important to ask yourself if you truly have the expertise in your company to do this? If not, the good news is that TAGG does!" Our long history of success has given us insight into where we most often find hidden value and new levels of efficiency in ecommerce order fulfillment—and today we're sharing that knowledge with you.
Three strategies to find hidden value in your fulfillment center network
As you know, implementing an omnichannel fulfillment strategy across your fulfillment centers is not a "once and done" task. Change is constant and reanalyzing your process is vital. At TAGG Logistics, we have identified three key steps to creating new value and greater efficiency throughout your operation.
Creating the most effective network for your ecommerce order fulfillment is not always intuitive. In fact, sometimes it seems more like an art than a science. Ask yourself, do you have the optimal geographic locations to reach your buyers effectively? And, do you have the optimal number of facilities in your network? For example, it may seem counterintuitive, but sometimes having more fulfillment centers closer to key regions is actually less expensive than having fewer that are farther away.
At TAGG, one strategy we often use for our omnichannel fulfillment clients is what we call a "Hub and Spoke" model for their fulfillment centers. For their Business-to-Business (B2B) fulfillment needs, we place inventory in a centrally located fulfillment center, the 'Hub'. Then, to enable fast Direct-to-Consumer (DTC) fulfillment, we position smaller amounts of right inventory at various other regional fulfillment centers, the Spokes, in key markets, effectively ensuring goods reach consumer doorsteps fast. (Learn more about how a nutritional supplements company is using our Hub-and-Spoke model to get goods to market faster in this blog post.)
Optimize your inventory within each fulfillment center.
There are three common ways inventory is organized. The first is to have all SKUs in one location. This scenario may be a good fit for a company who only sells in a single region, allowing them to consolidate their ecommerce order fulfillment in a single facility. However, this would not be a good choice for a company who sells across a wider geographic area—having more regional fulfillment centers may allow them to deliver products more quickly and save on transportation.
Alternatively, a company could have some SKUs in one or more locations, but not at other locations. This might be a good fit if you sell products that are regionally-specific. One example might be college sportswear which are largely sold to customers in a fixed geographic radius from the college—or foods that are sold to regional grocery stores or restaurants, like a specialty sandwich only offered to certain franchises in certain states.
Finally, the most complex scenario is finding the optimal SKU mix for each facility in the entire network of fulfillment centers. This requires initial data analysis to define this mix, but also regular re-evaluation to keep up with market changes, product changes, and customer changes. An experienced 3PL partner should be capable of understanding the nuances of managing a network with multiple fulfillment centers and the ability to identify and implement ongoing process improvements.
Optimize transportation across the entire fulfillment center network and distribution footprint.
Not all transportation is created equal! Detailed analysis of transportation and ongoing management is key to ensure that every aspect of efficiency is considered. Do your goods need to arrive as quickly as possible, no matter the cost? Or can they be moved slowly and minimize the cost? It is true that some customers need all of their goods to move quickly and others need all of their goods to move as cheaply as possible, regardless of timing.
Over the years, TAGG Logistics has found that many of our clients fall somewhere in the Goldilocks middle—not too fast and not too slow, but just right. Other clients might need a mix of transportation strategies to accommodate some products that are time-critical for delivery and others that aren't.
The final key piece of transportation optimization is what the industry calls the "final mile". That is looking at optimizing routes and dispatch, having real-time visibility to track and trace, as well as verifiable proof of delivery. Final mile optimization often relies on sophisticated technology, but makes a huge difference in cost, efficiency—and, most importantly, customer satisfaction.
When onboarding a new client, we delve into the operational and logistics data you have to gain a full understanding of your starting point. Then, we collaborate closely with you, as our client, to agree on your key priorities and objectives, as well as any challenges you have identified. Finally, our solution engineering team designs the optimal solution and reviews it with your team, making any final adjustments.
A TAGG customer saves millions through optimizing omnichannel fulfillment centers
When a leading CPG manufacturer of surface cleaners asked TAGG Logistics to be their 3PL partner, they wanted to expand their network of fulfillment centers. We knew we could have an impact. We have extensive experience with engineering solutions across our fulfillment centers that uncover value, drive efficiency, and result in stellar experiences—for our customers and for their customers.
Our proven and repeatable process starts with data. Mike Moorham knows this process inside-out, "At TAGG, we're data-driven. We have the expertise and experience for analyzing data and drawing out insights and new solutions that have the most impact. For this new client, we invested the time to gather data and create the solution design, ultimately resulting in a comprehensive solution that included:
Operations Strategy with staff planning, automation deadlines, 7 day-a-week operation, flash sale preparedness and balancing
Human Resources with staffing support and temp agency alignment
Engineered Solutions that included management of volume to plan, days to ship, coordination of network balancing
IT support and cutting-edge technology with a stringent uptime focus, operations coverage, code freezes and resource allocation
Transportation strategy and planning with carrier and asset management and carrier support
Our recommendation included one national fulfillment center (Gurnee, IL) and 3 regional fulfillment centers (PA, TX & NV). The benefits are clear:
Annual savings of more than $1.3 million on outbound costs
31% reduction in freight miles
Parcel transit reduction from 2.3 days to 1.5 days
Getting the right network of fulfillment centers with the right omnichannel fulfillment strategies—including processes, inventory, and transportation—is just one invaluable way TAGG can help you take Your Business EverywhereSM. Moorhem sums it up, "A true 3PL fulfillment partner will use their shared knowledge across customers—and customize it to address the specific needs of your business. That's exactly what we do at TAGG."
To find out how we can use our 3PL expertise to help you, contact us today.
Contact TAGG