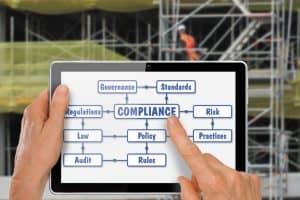 The Food Safety Modernization Act (FSMA) is sweeping through the industry as implementation deadlines quickly approach. FSMA's impact on food safety regulations have resulted in two significant changes: the requirement for a written Food Safety Plan and the establishment of a Preventive Control Qualified Individual (PCQI) at each food facility.
The foundation of a FSMA compliant program is the written Hazard Analysis Risk based Preventive Control (HARPC) Food Safety Plan. The Food Safety Plan follows a systematic approach to identifying potential hazards that may cause foodborne illnesses or injury and implementing preventive controls for those hazards. Through the plans development, each facility will identify the hazards and preventive controls needed for a successful food safety program.
Food Safety Plans are facility specific and a regulatory mandated format has not been established.  As a result, sites have the flexibility to organize required information in their plan to best suit their needs.  However, there are two (2) caveats.  1) The plan must be developed with oversight from the facility's Preventive Control Qualified Individual (PCQI).  The PCQI has the ultimate responsibility for evaluation of the identified risks and control measures, validation of the preventive controls and for the review and approval of the plan.  2) Each plan must include the following requirements:
Hazard analysis
Preventive controls (processes, food allergen, sanitation, supply chain, etc.)
Recall plan
procedures for monitoring, corrective action and verification activities
The Food Safety Preventive Controls Alliance recommends each plan have five (5) main organizational sections:
Background (optional)
Hazard analysis (required)
Preventive controls (required)
Recall plan (required)
Implementation procedures (required)
As it is likely that your Food Safety Plan will be reviewed by external sources (regulators, auditors, clients, etc.) it may be useful to include the following non-required elements in a background section of your plan:
Facility overview
Food safety team
Product descriptions
Flow diagrams
Process descriptions
The Hazard Analysis section of the Food Safety Plan differentiates itself from the HACCP, hazard analysis and critical control points, plan as its' focus is on risks that may result in serious injury or death.
As hazards are identified, the preventive controls section of the plan then focuses on controls that are essential to ensuring products are produced safely.  These preventive controls will be identified during the hazard analysis activities.  Additional preventive controls to include are allergen labeling and cross-contamination prevention procedures; sanitation procedures to include environmental pathogens, cross-contamination and cross-contact procedures; and supply chain preventive controls which include supplier approval and verification activities for ingredients and raw materials.
Each facility must include or reference their established recall procedures within the plan.  A recall plan is required if a hazard requiring a preventive control is identified.  The recall plan should establish procedures for when a product is in commerce and needs to be removed.
Finally, implementation procedures includes additional information that is needed to support your plan.  Examples include validation studies to demonstrate that preventive controls are effective in controlling the identified hazards; procedures for monitoring activities; procedures for corrective actions and corrections; and required records.
Regardless of how a Food Safety Plan is organized, it is critical that the key components of the plan are included and appropriate records are maintained.  The reasoning behind the changes is the necessary shift in focus to the safety of food products in distribution.
For further questions regarding the FSMA's changes to food safety regulations and the measures that TAGG is taking to meet these requirements, please feel free to contact us or give us a call at (314) 991-1900
.