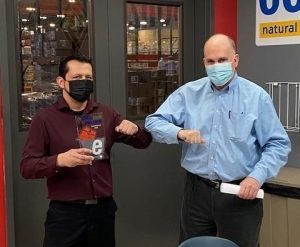 Today, we're profiling TAGG Logistics team member Javier Espinoza, winner of the TAGG Team Spirit Award. This blog post is part of our "Meet the Team" monthly series that showcases the logistics and fulfillment expertise of the TAGG Logistics management team in the areas of ecommerce order fulfillment, omnichannel fulfillment and transportation.
Meet Javier Espinoza, Project Manager and part of our Task Force Team, based out of our Illinois Fulfillment Center.
While everyone else has been staying safely at home over the past year, Javier Espinosa is bucking the trend. As a project manager, he is always on the go and last year was no different! Javier has been on the road constantly for the last nine months. In fact, he spent time on-site in six different facilities during 2020. He's always ready to go where he is needed. The truth is he has to be in a constant state of readiness, because often he had less than 24-hours to make necessary travel arrangements and head to a new site!
Javier's willingness to travel and flexibility to adapt to new situations, new teams and new environments makes him a very valuable player on our Task Force Team. He loves to help facilities create new processes that meet client requirements and make everyone more efficient, as well as work with TAGG team members at all of our facilities. He has a knack for it—and has become our go-to guy for operational processes, facility layout, inventory accuracy, and training.
Javier laughs, as he says, "I've been at TAGG almost 16 years, I've already forgotten about my life before." That's hard to believe since raising four active boys must have been a full-time job on its own. Now aged 26, 24, 20, and 18, you can see him beam with pride when he talks about them. His favorite food is tacos al pastor and he knows every word to his favorite song, "El Color de tus Ojos".