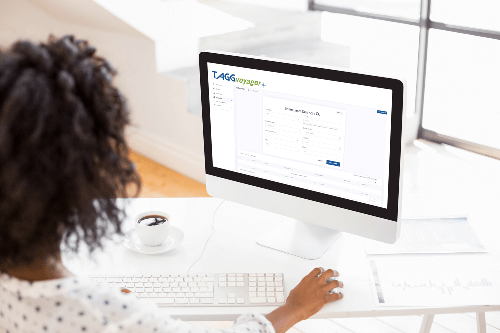 Are you getting what you need from your 3PL fulfillment partner's technology platform? Here are the four questions you should be asking yourself about technology to leverage omnichannel fulfillment.
In today's market, successful management of the complexities of omnichannel fulfillment is directly linked to the technology platform your 3PL fulfillment partner has. In this post, TAGG Logistics experts share four key questions to ask your 3PL partner about their technology platform. Ultimately, omnichannel fulfillment technology should power your business's growth and keep your customers coming back for more.
1. Do you have the data and insights you need to make better decisions across your fulfillment center network?
Whether you're in the C-Suite or managing any part of the organization, you need accurate, timely information to make the best business decisions. It is vital that your 3PL partner's technology platform gives you exactly what you need when you need it. Does your partner provide a single at-a-glance executive dashboard for all of the most critical aspects of your fulfillment center network? Can you track key performance indicators for up-to-the-minute business intelligence? A robust technology platform, like TAGG Voyager, fully addresses these imperatives, so that the C-Suite and beyond can improve service, reduce costs and continuously improve omnichannel fulfillment operations. Voyager even allows you to schedule automated reports, emailed directly to your inbox, when and how you need it!
2. Does your technology platform enable you to deliver an exceptional customer experience for eCommerce Order Fulfillment?
Are you maximizing the best customer experience for eCommerce Order Fulfillment? For example, are your systems equipped and flexible to adapt to shifts in consumer demand across multiple sales channels? In order to ensure your customers have the best possible experience, it is important for customer service representatives to have all the information they need at their fingertips — without racing around to multiple systems or sources to find answers. Some features to explore are: an intuitive and easy-to-navigate interface, the ability to perform key functions, such as report order statuses, track shipments in real-time, as well as route, cancel and manage orders based on customer requests.
Your technology platform should provide the capability to add new items to an existing order, cancel items within an order, or cancel a full order — and send all of the new data in real-time to the fulfillment center for immediate adjustments. TAGG Voyager, for example, also allows customer service reps to view orders by channel and shipping type — as well as break out orders into groups for DTC, B2B, B2B freight and kitting jobs. Another critical capability of TAGG Voyager is daily monitoring. To keep your business running smoothly, make sure you have complete visibility into open orders, orders shipped today, orders past due and out-of-stocks — as well as network visibility to inventory positions, recent inbound shipments/inventory, orders by state, and orders by month. The good news: TAGG does all of this and ensures a great customer experience for eCommerce Order Fulfillment.
3. Can you plan and manage warehouse inventory smartly?
An inventory planner's worst nightmare is a growing backlog of out-of-stocks with no visibility to when supplier replenishment inventory will arrive. A technology platform should enable you to prevent out-of-stocks before they happen — and replenish inventory when and where you need it. What's more, you need visibility to what's happening across all inventory in all locations, so you know when it's time to re-order and make other SKU/product portfolio adjustments. We've designed TAGG Voyager to help you manage warehouse inventory more effectively, giving you the ability to understand inventory positions (in stock, no stock, OOS, low stock), set and manage inventory thresholds and manage product expirations and aging products. At TAGG Logistics, our Voyager platform can also monitor product returns coming inbound to your fulfillment center, providing visibility to inventory coming inbound from suppliers, or even tracking key metrics for inventory putaway.
4. Does it seamlessly integrate with your WMS and ERP systems?
Without established integrations with key systems, such as your WMS and ERP systems, information cannot flow freely to where it is needed. This creates unnecessary barriers to operating efficiently, making it difficult to provide a premium customer experience, and prevents insights into opportunities for continuous improvement. At TAGG, our Tech-Stack and Voyager platform integrates seamlessly across all platforms and accepts nearly all types of EDI, API, and flat file feeds coming from our clients. In addition, Voyager provides an open-source API connector for real-time data whenever and wherever it is needed. TAGG strives to provide the ultimate visibility and an exceptional experience in interface and functionality.
When it's all said and done, your organization needs business intelligence on your fulfillment network at all levels from customer service up to the C-Suite. TAGG Voyager gives access to the right data and insights to make the network operate efficiently. That's why TAGG's designed TAGG Voyager for true omnichannel fulfillment — so every player gets exactly what they need to succeed.
With TAGG Voyager, you can be confident that you have the right technology platform for your omnichannel fulfillment. That's one more way to take Your Business EverywhereSM today. TAGG is here to be your 3PL fulfillment partner.
Contact TAGG Logistics Today