Is the one reason right for you? Read on to find out.
The news was everywhere: on June 19, 2019, Shopify announced a new fulfillment network aimed at small- and medium-sized businesses. By the end of the year, it plans to bring seven new warehouses online, and over the next five years, it will invest around $1 billion fleshing out the infrastructure for this network.1
One of Shopify's main goals is addressing an important challenge facing the e-commerce market. With customer expectations for both B2B and B2C fulfillment set by the biggest companies in retail, smaller businesses tend to have difficulty finding a fulfillment partner that offers an acceptable level of control, transparency and independence.2 Already, thousands of merchants have expressed their interest in Shopify's early access program, which offers a preview of the network's features. Interest seems to be growing by the day.3
By adding fulfillment services, Shopify is employing a "vertical integration" strategy. This is where businesses aggregate ancillary services under their core business umbrella to provide a more comprehensive, one-stop shop for customers. In theory, a vertical integration strategy can not only attract more customers due to greater convenience, but also help retain customers the company already has.
Well-known brands have engaged in vertical integration for years. FedEx introduced fulfillment services for small- and mid-sized businesses in early 2017, for example, and eBay promises to so as well in 2020. And then, of course, there's Shopify.
Can Shopify leave you fulfilled?
If you're a small- to mid-sized business owner who needs fulfillment services, is Shopify a viable option for you? That depends. If you want to sell exclusively through Shopify to handle your e-commerce orders and ship up to a few hundred items per day, then Shopify may be the only fulfillment solution you need.
But what if your sales needs are more complex than that? What if you're not just concerned with e-commerce sales via Shopify, but all the ways consumers want to engage with your products? What if you want to meet them not just on e-commerce websites, but also via social media, at brick-and-mortar stores, through the mail or TV—in other words, anywhere and everywhere?
What if you want to ride the omnichannel trend?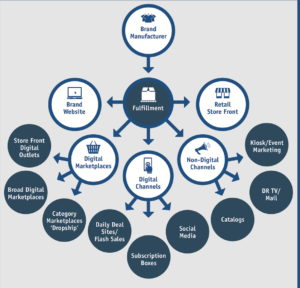 Consumers want to buy your products wherever they want, whenever they want. And today, that means offering one- to two-day delivery across the country—no matter what sales channel generates the order. To provide this speed and coverage of service, you'd need the right combination of people, process and technology–a combination that only a fulfillment center built to serve the omnichannel world can provide.
Shopify simply can't handle your fulfillment needs outside of its own sales channel. For example, to expand into other channels such as Walmart or Target's online marketplace, you'd need separate warehouses and other fulfillment infrastructure for each. Plus, you can't ship to either company's brick-and-mortar locations with Shopify.
Suddenly, you would have "your inventory everywhere" instead of "your business everywhere." Imagine trying to stock and manage your inventory in multiple locations scattered across the United States. It would be a logistical nightmare.
Then there would be concerns about delivering a consistent brand experience everywhere. Delivering that experience at the speed of now, in custom packaging no less, is a skill set that Shopify simply doesn't have.
Beyond Shopify: succeeding in the omnichannel world
To Shopify, or not to Shopify: that was the question. Now you know the answer. If you want to thrive in the omnichannel world, you need the fulfillment company with the scale and expertise to help deliver Your Business Everywhere℠. That's TAGG Logistics.
1 Supplychaindive.com. "Shopify will acquire robotics startup 6 River Systems for $450M." September 10, 2019. https://www.supplychaindive.com/news/shopify-acquire-robotics-startup-6-river-systems-450m-fulfillment/562587/
2 Retaildive.com. "Shopify launches fulfillment network." June 20, 2019. https://www.retaildive.com/news/shopify-launches-fulfillment-network/557260/
3 Supplychaindive.com. "Shopify to invest $1B in fulfillment network after shipper interest exceeds expectations." August 2, 2019. https://www.supplychaindive.com/news/shopify-to-invest-1b-fulfillment-network/560090/