Today, we're profiling TAGG Logistics team member Jess McCurday, winner of the TAGG Team Spirit Award. This blog post is part of our "Meet the Team" monthly series that showcases the logistics and fulfillment expertise of the TAGG Logistics management team in the areas of ecommerce order fulfillment, omnichannel fulfillment and transportation.
Meet: Jess McCurdy, Food Safety & Quality Manager based in our St Louis, Missouri facility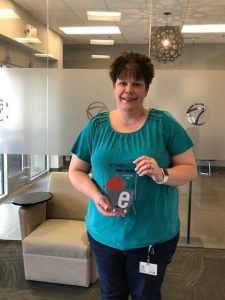 Hardworking is an understatement when it comes to describing Jess McCurdy, Food Safety & Quality Manager at TAGG Logistics. While Jess is based at our St Louis, Missouri fulfillment center — her responsibilities cover Food Safety & Quality at all TAGG Logistics locations and she manages Flash Sales across several locations as well. It is a lot of responsibility, but Jess never fails to make balancing quality control and the pressures of fast-paced flash sales seem effortless. Always cool, calm and collected, Jess's exceptional organizational skills and positive attitude everyone at TAGG get through an intense flash sale peak season. Others might have thrown in the towel after working long hours every day, but Jess never flags—always rising to the occasion to get the job done. Jess continues to go above and beyond managing TAGG's quality program, assisting our customer service team, as well as our clients and their customers.
Jess graduated from Illinois State University in 2000, earning a BS in Agriculture with a minor in Biology. She began her career at Monsanto working in several locations across the midwest ending up at the company headquarters in St. Louis as a Monsanto Quality Analyst and Business Analyst. Following her years at Monsanto, Jess worked at DuPont Nutrition & Health/Pioneer Seed Company from 2008-2016 as a Distribution Requirements Planner and Soybean & Wheat Agronomist before landing at TAGG. She's an ALICE-trained instructor, and a member of PCQI and NFPA.
Married with two handsome boys and a teenaged stepdaughter, Jess spends her free time relaxing with her family or participating in Cub Scout activities. She also tells us that if there was only one food left on earth, she hopes it would be cheese! As a kid, she dreamed of becoming a veterinarian or music teacher and began her college education with a music performance scholarship. Music continues to play an important role in her life. She plays the clarinet, oboe, and bassoon and has a deep love of an eclectic mix of styles that includes classical, rap, country and classic rock! In fact, she knows all the words to songs by her favorite bands—Garth Brooks, AC/DC, and Matchbox 20. Our interview ended with Jess's words to live by, "Don't sweat the small stuff!"