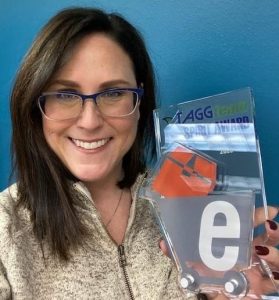 We are pleased today to recognize Melody Moore, EHS Director, as one of our 2021 TAGG Team Spirit Award recipients. Melody has done a phenomenal job keeping the COVID Task Force informed and up to date on laws and law changes by state or county and creating policy and procedure around COVID. She is a wealth of knowledge and a fantastic researcher who never says no to any task. She even researched where to get masks and cleaners and hand sanitizer when we were desperate. She also really understands the business's safety and compliance side – to a level that we have not seen in the past. Melody not only undertakes a lot, but she also implements positive change based on all the knowledge she has.
Simply put, she does it all!
Here's some more information about Melody and her role at TAGG Logistics:
Overall job responsibilities: Environmental, Heath and Safety for all locations.
TAGG Location: Offices in Dallas, TX
Past jobs and careers and schooling: National Account Manager (Paging Network, Inc) Regional Operation Manager (ARCH Wireless), Customer Service Manager (Chemical Logistics), DC Manager (LeSaint Logistics), Collin County College
Industry organization involvement: IWLA, NACD (On Regulatory Affairs Committee and Warehousing Committee), LEPC, Homeland Security Summit
Family: Married with a blended family of 4, youngest is 18!
Now for the fun stuff! Here's what Melody had to say about her personality and hobbies:
What would we most likely find you doing on the weekend? Riding four wheelers
When you were a kid, what did you want to be when you grew up? Nurse! But when I started school, couldn't handle the blood
What advice would you give yourself? Not to sweat the small stuff
If you could eat only one item for the rest of your life, what would it be? Mexican food
What's one song you have completely memorized? Proud Mary by Tina Turner…"and we're rolling, rolling, rolling on the river"
Read more about our 2021 TAGG Team Award recipients.
Read More