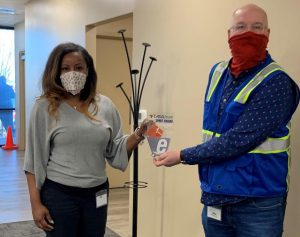 Today, we're profiling TAGG Logistics team member Tiffany Banks, winner of the TAGG Team Spirit Award. This blog post is part of our "Meet the Team" monthly series that showcases the logistics and fulfillment expertise of the TAGG Logistics management team in the areas of ecommerce order fulfillment, omnichannel fulfillment and transportation.
Meet Tiffany Banks, Human Resource Manager, based out of our Memphis Tennessee location.
Tiffany is truly a team player, approaching every aspect of her job in human resources with a positive, can-do attitude from the very start. Hired in January 2020, she began her position at TAGG with a major task—hiring virtually everyone for a building that wasn't yet ready for occupancy! First she was working from a hotel, later she worked from her car, yet she always handled the pressure and the chaos with efficiency and aplomb. All in all, she hired over 145 people for that location in less than a year—despite the challenges of a global pandemic and a tough, uncertain labor market.
As the HR Manager for Memphis, Tiffany keeps employee communications flowing and the management team moving forward, dealing with all employee-related issues and some non-HR issues. A graduate of the University of Memphis and a member of the Society for Human Resource Management, she has focused on developing human resources throughout her entire career.
When she's not at work, Tiffany's 7 year-old son keeps her on her toes. On the weekends, they like to travel and find adventure together exploring new places. The one food she can't resist? You'll never guess, it's shrimp! Finally, her wise words for all of us, "I believe there is a lesson to be learned from every experience. You just have to look for it!"