What does the acquisition of LeSaint Logistics mean to TAGG customers?
Let's start with 3PL KnowHow™: LeSaint's unique ability to advance your supply chain goals, whatever they may be. And find new value at every point in your supply chain, so you can serve your own customers more efficiently and cost-effectively than ever before. That's the heart of what LeSaint Logistics can deliver for you—and the reason why this supply chain powerhouse is the perfect fit for TAGG Logistics.
You may have heard that in early 2020 TAGG Logistics acquired LeSaint Logistics, an Illinois-based company that specializes in customized, integrated transportation and supply chain solutions. The move instantly expanded TAGG's size and reach—creating a nationwide network of 25 fulfillment and warehousing facilities. Talk about delivering Your Business Everywhere™! Then, LeSaint brings a wealth of new transportation and value-added logistics services as well. Let's take a closer look.
How LeSaint Logistics drives greater value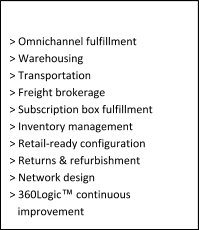 Since 1983, LeSaint has built a strong reputation for designing and implementing effective supply chain solutions for industries as diverse as consumer packaged goods (CPG), specialty chemicals, durable goods and food & beverage. Key to LeSaint's success is how it creates and delivers new value across the supply chain:
Commitment to customers: LeSaint continually invests and expands in client business operations. New technologies, customer-driven strategies and sustainable practices all contribute to healthy collaboration and client success.
Continuous improvement: Decades of experience have honed LeSaint's strategic planning processes to help clients improve their own operations, so they can make stronger customer connections.
Case in point: 360Logic™ is LeSaint's proprietary, proven process for
exacting quality improvement.
An engaged leadership team: LeSaint's senior leaders are ready to engage with yours, eager to develop the only solution that matters: the one built just for you.
LeSaint's approach works. More than 225 organizations have counted on LeSaint for an average of 15 years each—with a 98.7% client retention rate. Now LeSaint's strengths have joined with TAGG's to create a new and compelling answer to the many challenges of managing logistics today.
Bigger really is better
What happens when you combine LeSaint's end-to-end supply chain expertise with TAGG's direct-to-consumer and omnichannel fulfillment services? You get a new 3PL solution designed to drive even greater value—whether you're an established CPG manufacturer seeking a stronger distribution solution across North America or an emerging brand wanting to grow your direct-to-consumer sales. Perhaps you want a more reliable freight brokerage transportation solution—or are ready to start accelerating your sales on Amazon.com.
Whatever your logistics needs, now you have a new and even broader solution rooted in decades of experience, the latest technology and an enduring passion to help your business succeed. Contact the LeSaint-TAGG team to learn more.
Get here to there—faster
The combined reach of TAGG Logistics and LeSaint Logistics is bigger than ever.
Click here for a map of our facilities and their transit times.