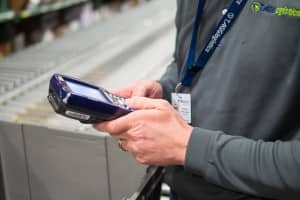 Gone are the days where an order is written down on a piece of paper, walked out to the warehouse, and picked according to the line item on the sheet. With the evolving omnichannel world of today's retailers, those legacy methods are not scalable to process a variety of orders and order sizes. A fulfillment center must have the ability to quickly and accurately pick, pack, and ship anywhere from 5-5,000 orders per day, whether that be case picks, eaches, or a combination of both. However, some believe that automation is too expensive or just unattainable, causing them to miss out on an opportunity to improve and grow business. Automation in the warehouse is a must to compete in today's omnichannel market and retailers are pushing their fulfillment centers to keep pace.
One of the major benefits of having automation in the warehouse is the ability to save on space and labor. The cost of labor has always been the most important factor in automation projects; deciding whether or not to invest in an expensive piece of equipment and software or spending money on a large labor force to accomplish the same task. It is evident that in today's world, automation and that latest software, help create solutions that can fulfill orders at a very aggressive rate. Not to mention, the level of organization it generates throughout the warehouse. The electronic scanners that receive the orders are in sync with the warehouse management system that controls all inventory, orders, returns, lot codes, etc. Each item has its own assigned location and is accounted for at all stages of the supply chain process. The return on investment exceeds any upfront costs that may occur during initial investment.
Another leading area of payback is the advances in throughput and flexibility.  There are an infinite number of ways for consumers to purchase products nowadays; on a retailer's website, in-store, on Amazon or eBay, phone orders, catalog purchases, etc.–the omnichannel. This makes it hard to operate using  a single system that cannot be tailored to your needs. The systems need to be able to process any number of orders being sent to numerous different end users, all with different guidelines and restrictions on how the product needs to arrive. You need the right combination of equipment and software to make decisions at the speed of automation to successfully complete each order that enters the warehouse.
Employing a successful automation system to streamline your entire business processes should be something that your fulfillment center already has or is working toward. Consumers want their products as soon as they are ordered so there is little room for error. Automation in the warehouse reduces your pick and ship errors, reduces your space and labor hours, gives you complete transparency to all of your inventory, and ensures that all orders will be processed quickly and efficiently in the warehouse. Though the initial costs can be substantial, the benefits of automation are game changing and essential in competing in today's 3PL industry.
At TAGG, we have invested heavily in ensuring that our fulfillment centers are completely automated to meet the needs of our clients. If you have any questions or would like to learn more, please fill out our contact form or give us a call at 314-991-1900.