Inside TAGG Peak Prep: Up-to-the-minute analysis of what to expect in 3PL fulfillment, inventory, and more.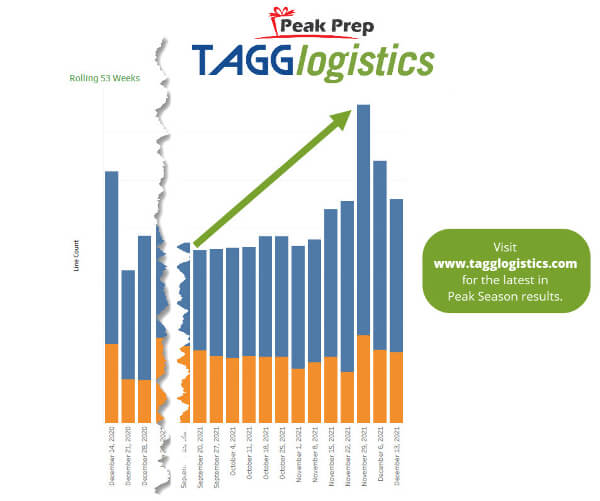 After Black Friday and the launch of the official peak buying season, everyone in the industry is watching closely to see what the effects will be on ecommerce order fulfillment. Our last post was an update on this year's Black Friday market conditions—this week we're sharing the perspectives and analysis from TAGG's executive team based on what we're seeing in our client's fulfillment operations. As you may be aware, TAGG's Peak Prep program has been actively underway for more than 3 months, as additional support for our clients at this critical time of the year. In this post, you'll hear commentary from TAGG Logistics executives: Tod Yazdi, CEO; Dino Moler, EVP of Client Solutions; Jennifer Lee, VP of Human Resources; Keith Warren, VP of Transportation; and Mike Moorhem, Director of Engineering.
Supply chain disruptions make it more difficult to react to peak volumes than in past years
Tod Yazdi, TAGG's CEO reports that, as expected, consumers are driving holiday spending and the trend to move online is more apparent than ever, as they try to avoid the crowded indoor spaces and shop from the convenience of their devices. "Since market conditions are making it harder to react to peak volumes, TAGG took the initiative to prepare our clients with a much broader and deeper planning that brought the TAGG Peak Prep team together with clients. Prior to peak season, we worked with each of our clients to understand volume and timing of sales, as well as inventory levels."
Not only was it vital to work through these issues with clients, but TAGG brought their carrier partners into the planning process as well. "Working with them directly, we outlined our capacity needs across a 7-day per week shipping cycle. We also aligned labor where we needed it in advance. Then, once the peak period hit, we've monitored it continually and keep making adjustments where needed. For clients that have multi-point fulfillment, we can shift volumes to where the capacity is."
Early planning shows positive impact across the board
Dino Molder, EVP of Client Solutions echoes that comment. "We're seeing real-time indicators that the TAGG Peak Prep planning has already had an impact. Part of our preparation was to have a clear plan in case there were surges beyond what we expected. Anticipating this, means everyone knows what to expect when the unexpected happens. We are all working together in lockstep." Yazdi adds that the team communicates with some clients daily about volumes, output and days-to-ship, so that the client is always aware of the status of the entire fulfillment chain. Moler also reports that TAGG is receiving real-time communications on trending order volumes from clients—even before the orders are dropped. "The planning really helped. Our clients are giving us an early heads-up and operations are flowing extremely smoothly."
Despite capacity expansion, small parcel demand will continue to significantly outpace carrier capacity
Keith Warren, VP of Transportation at TAGG says that despite parcel carriers ramping up capacity by adding facilities, equipment and personnel in anticipation of peak season, there's still a shortfall. The forecast looks better than it did in 2020, yet experts still expect demand to exceed carrier capacity by an average of 4.5 million packages per day. Granted, that is an improvement versus the shortfall in 2020 of 7.1 million packages per day. Warren explains, "The pre-season recommendations to ship early and spread sales out over a longer period of time still holds true, as there will continue to be delays tied to capacity shortages in markets across the country. The heavy shipping markets such as Southern California, Chicago, Dallas, Memphis and the Northeast will likely see periods where packages sit idle for days as they work through periodic backlogs." He adds that while the suggested shipping deadlines as officially published remain unchanged, TAGG advises that smart shippers should add buffers to those dates—to the greatest extent possible—in order to satisfy customer needs.
When in comes to labor, it paid to think ahead
Even in the toughest labor market in the company's history, TAGG is finding that thinking ahead pays off. "At TAGG, we are in a very good place with regards to labor right now," says Jennifer Lee, VP of Human Resources, "Thanks to the TAGG Peak Prep program, we've been able to plan in advance and forecast the quantity of people and skills required." To hire, onboard and fully train staff before the start of peak season, Lee says they used some creative measures. "We knew that in this extremely tight labor market, you have to go one step further. We used some fun incentives, both to motivate our existing employees to refer great candidates—and to entice new hires to join the company." Lee goes on to say that thanks to the work everyone did in advance and with clear communication with clients, human resources has been thrilled with the outcome.
The proof is in the results
Now that we're in the throes of peak season, it is clear that the first year of the TAGG Peak Planning initiative has been impressive—and the real impact is the positive benefit on our clients' businesses. Mike Moorhem, Director of Engineering at TAGG, reports that since Peak Season took off on Black Friday, "We've seen a 30% improvement in order output, due to the investments we've made in advanced planning, automation, daily metric reporting and consistent communication with our partner carriers.
"Peak season can be make or break it for so many companies," Tod Yazdi, TAGG's CEO concludes, "Clients come to us because they want a 3PL fulfillment partner that is always thinking ahead, always looking for ways to improve. That's exactly what TAGG does best."
There's no time of year when seamless omnichannel fulfillment is more vital. TAGG's Peak Prep initiative is one more way we can help you take Your Business EverywhereSM. TAGG is here to be your 3PL fulfillment partner.
Contact TAGG Today