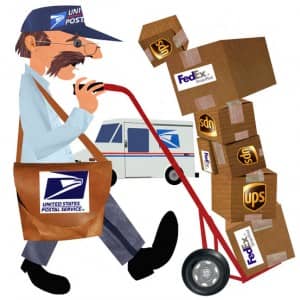 It should come as no surprise that the carriers such as FedEx and UPS are already forecasting record volume this holiday season. The continued dynamic growth of e-commerce fulfillment, including the popularity of mobile app shopping, has carriers and retailers working together to prepare for a record-breaking number of shipments between Black Friday and Christmas Eve. Having learned hard lessons during the 2013 shipping season, when inclement weather and overwhelming, unprecedented volumes caused significant delays, UPS and FedEx are gearing up for a blazing holiday season.
FedEx has predicted they will ship at least 317 million shipments this holiday season, marking a 12.4% increase from 2014. With one additional shopping day in the 2015 season, and with the shift in consumer shopping patterns heavily fueled by e-commerce, FedEx has increased their strategic investment to prepare for the volume. The biggest investment being the $1.6 billion in FedEx Ground, primarily put toward capacity and automation. They have also added over 7,000 new, fuel-efficient vehicles and will be adding more than 55,000 seasonal positions.
UPS has predicted a 10% increase in package deliveries from last year, with hopes of delivering more than 630 million packages between Thanksgiving and New Year's Eve. They expect their busiest day to be December 22, the Tuesday before Christmas, when more than 36 million packages are expected to be delivered. UPS has already begun their seasonal hiring and expect that number to reach 95,000 temporary workers to assist with the hustle and bustle of the holiday season.
With such high projections reported by both companies facilitated by the continuing growth in online shopping, the carriers have conversed extensively with big retailers to understand their shipping needs and secure as accurate volumes as possible. There has been an ongoing trend for consumers to wait until the last minute to shop, in hopes of receiving the blowout deals, free shipping, and other incentives. FedEx and UPS understand this but have discussed placing caps on shipments after a certain number is reached to try and avoid overwhelming their systems. So for all of you online shoppers out there wanting your packages before Christmas morning, the carriers encourage you to start shopping early to allow time for any unforeseen situations to occur.
To ensure that your package arrives on time, take note of the delivery cut off times for UPS and FedEx, and the USPS:
UPS Holiday Schedule:
December 18-Ground Shipments
December 22-Last Day to Ship Second Day Air
December 23-Next Day Air
December 24-Normal Delivery of Air, International and Ground Packages
December 25-No UPS Pickup or Delivery Services
FedEx Holiday Schedule:
December 16-Ground Shipments
December 22-Second Day Air
December 23-Next Day Air
December 25-Same Day
USPS Holiday Schedule
December 1 -First-Class Mail International
December 1-Priority Mail International
December 8-Priority Mail Express International
December 15-Standard Post
December 19-First-Class Mail
December 21-Priority Mail
December 23-Priority Mail Express