Tips for eCommerce sellers of healthcare products such as skin care, weight loss supplements and nutraceuticals.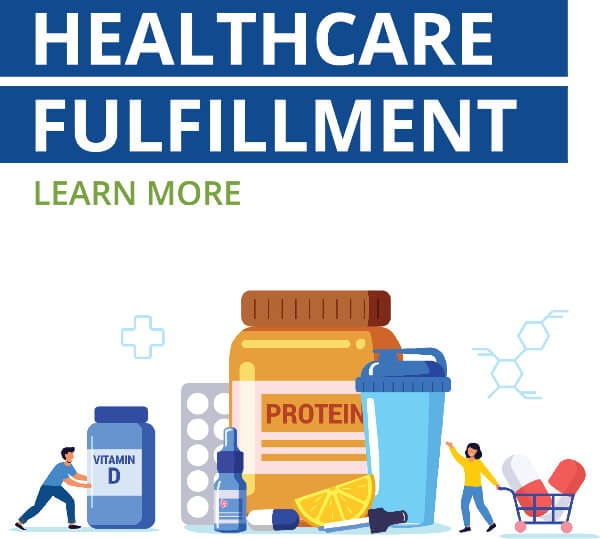 In skin care product fulfillment, weight loss supplement shipping, and 3PL omnichannel fulfillment for nutraceuticals, sellers should emphasize speed and special handling to win over today's consumers through ecommerce.  TAGG Logistics shares insights from experience handling ecommerce order fulfillment and omnichannel fulfillment for successful health and beauty brands.
The many months and endless hours of pandemic isolation gave all of us more time than ever to look in the mirror and take stock of our health care, skin care and weight care. No wonder why these categories have gone even more viral of late. Here's the latest e-commerce order fulfillment data:
Nutraceuticals are a $71.73 billion dollar market in the U.S.
Skin care products are now a $20 billion dollar market in the U.S.
Weight loss supplements are a $2.8 billion dollar market in the U.S.
The winners in these markets have found ways to appeal to healthcare consumers' desires for fast, easy results, authenticity and transparency. These attributes extend beyond the products they're buying to the entire process of ordering, receiving them and opening them.
That's why these considerations should be driving your omnichannel fulfillment or ecommerce order fulfillment choices and create an experience that's as fast, easy, authentic and transparent as the products you sell.
Speed is the essence in healthcare e-commerce order fulfillment
Consumers of weight loss supplements and smoothies are typically driven by a personal need that can't wait. When you've made the decision to lose weight, you want to get started. The same is largely true with nutraceutical purchases and skin care products. Whether you're dealing with joint pain or skin irritation, you want your product at the speed of now.
A 2017 study determined that time really does expand when you're in pain. For that reason, speed of delivery and visibility to tracking information is more important in this category than any other. Failing in the category of fast and not providing adequate shipping updates, are unforgivable offenses with healthcare customers. [JC1]
One or two days—and even better same day—is what buyers want. That means you need a fulfillment partner with national reach and strong regional ties to small parcel deliverers. With TAGG, you can deliver your products in one to two days from coast to coast from eight strategically-located fulfillment centers in the Midwest, West Coast, East Coast, Southeast, and Texas. That means a 1.2-day average transit time throughout the U.S.—and that your buyers can start their diet or skin care turnaround without delay.
Providing instantaneous satisfaction starts with order integration. Your website order management system or ecommerce platform needs to seamlessly connect to your 3PL's warehouse management system. TAGG connects to most every ordering platform, so customers' orders are immediately off to a fast start.
Healthcare customers order remedies they want and need now. Delivering at the speed of now requires fine-tuned fulfillment with no gaps or inefficiencies. TAGG orders are fulfilled the same day. Picking expertise aided by technology ensures products go from warehouse to trucks fast.
For the final leg of the journey, UPS, FedEx or USPS may be delivering your products, but to your buyers it's you, your product and your responsibility. Your brand reputation is on the line, so make sure your fulfillment provider has a powerful transportation management system like TAGG's to deliver your product on time, with timely updates—and always at the lowest possible cost.
Provide packing and kitting buyers feel good about
Customers pay a premium for products that matter most. Whether they've bought a serum to clear up a skin condition or an herbal remedy to aid digestion, it matters a lot to them. The packing and presentation should reflect that.
TAGG works with clients to create unboxing experiences that are true to the brand and designed to impress. To us, it is an art, and to quote Aristotle, "The aim of art is to represent not the outward appearance of things, but their inward significance."
Whether it's a single shipment or a subscription box fulfillment, we strive for packing that supports a premium image while leveraging every dimensional advantage that can save you on shipping. Expertise in both these areas makes TAGG an indispensable ally in growing your brand and bottom line.
Deliver on omnichannel and ecommerce expectations
Consumers want what they want, where and when they want it. They buy skin care products online, in stores and home shopping networks. The same goes for weight loss supplement buyers and purchasers of nutraceuticals.
The key to maximizing sales and expanding business is to meet consumers wherever they want to buy and provide the same excellent brand experience in every channel. 42% of consumers say a seamless experience across channels is a top expectation—and it's safe to say buyers of premium healthcare products expect even more. Your omnichannel fulfillment partner needs to understand the complex nature of healthcare fulfillment and distribution and meet your standards everywhere.
TAGG Logistics creates the right distribution solution for sellers of healthcare products, whether you need direct-to-consumer fulfillment, pallet-to-pallet warehousing or transportation management.
TAGG's approach is unique and perfectly suited for healthcare. TAGG aggregates inventory into a central omnichannel fulfillment solution with multiple points of distribution. This provides full visibility into inventory at all times so you can make adjustments as needed. This is what the TAGG Logistics team does daily for sellers, moving inventory between order fulfillment center locations to accommodate the changing demands in different channels and regions.
Healthcare fulfillment requires a higher level of care and attention
FDA crackdowns on dietary supplements in recent years are only one example of the risks healthcare product sellers face. Health and beauty products require more care because of the harm expired or tainted products can cause consumers.
The trend among manufacturers to use more natural ingredients places greater pressure on fulfillment. Expiration dates are even shorter and temperature and humidity controls are even more demanding. This development, combined with consumers' desire for greater transparency throughout the supply chain requires an accurate and effective lot control system. Through TAGG's warehouse management system, items can be traced to a specific manufacturer and expiration dates can be managed using FIFO, LIFO and FEFO (first expired first out) fulfillment.
The ability to manage inventory across fulfillment centers and according to your standards is critical for expansion. It's not something you can do yourself. A trusted 3PL is necessary. TAGG's warehouses are clean, secure and have available climate-controlled storage—perfect for handling healthcare products.
Experience is the key to expansion
Working with an experienced healthcare ecommerce fulfillment provider helps you avoid common and costly mistakes that come with growth and success. TAGG brings world-class expertise dealing with healthcare product fulfillment. We can provide the flexibility and high level of customer commitment to meet your needs shipping individual purchases, cases or pallets of your product.
It's not enough to have logistics experience to handle healthcare ecommerce fulfillment. In the wide view, your brand's reputation rides on how well you deliver—in every way. Consumers are trusting you.
TAGG is here to help make sure you make good on that trust by being your 3PL fulfillment partner that helps you complete an experience consumers feel good about—and you do, too.
Contact TAGG Logistics